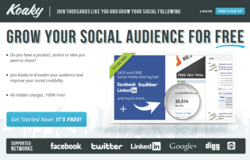 Join thousands of members and grow your social following
Cebu, CEB (PRWEB) January 17, 2012
Clicking Labs the leading provider of Web 2.0 business applications is unstoppable with its new free ventures. The company recently launched its free media sharing tool, Koaky that helps businesses, individuals and organizations grow their social networks through an online social exchange system. It is made simple as users are just a mere click away to acquiring Facebook likes, Twitter followers, Web shares and traffic.
Today, Clicking Labs announces Koaky will be launched in different languages starting with Spanish, French and Portuguese. "We are starting on this part of project to make Koaky available to a worldwide market without the language barrier commonly encountered by non-English speakers. The company is starting on these three languages for a reason. We ourselves are multi-lingual and we believe that others in the world would be able to understand our cause" says Managing Director, JP Bisson, a Canada born entrepreneur and visionary.
Koaky's new offering is supported by the Google translate application combined with Clicking Labs staff's fluency in Spanish, Portuguese and the French language. "Our vision is to provide online users free services while eliminating minor impediments that can be overcome by a dedicated company committed to helping individuals and businesses grow online", Business Development – Managing Director, Jonathan Kennedy adds.
Alongside this new change, the newly applied languages will apply to their online chat services. Members of the community who wish to ask about Koaky can leave their concerns via messages on their chat function for immediate responses. Koaky currently offers the following social networks such Facebook, Facebook Share, Twitter, Retweet, Digg, Google Plus, Stumble Upon, and LinkedIn. These supported networks will be more pronounced and widely available starting with this new development.
Learn more about Koaky at http://www.koaky.com and start growing your social networks.
About
Koaky is a wholly owned company by Clicking Labs. With dedication and perseverance they were able to bring together a diverse team of web professionals to provide internet businesses with creative web marketing strategies. Founded in Ottawa, Canada, the company has expanded operations to Cebu, Philippines in early 2011 to better serve its clients.
###