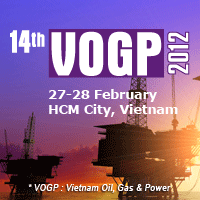 Unveil latest developments, exploration plans, and track the robust growth in Vietnamese oil, gas and power industry ,its impact on the Vietnamese economy all at CMT's 14th Vietnam Oil, Gas & Power Conference in HCM City!
HCM City, Vietnam (PRWEB) January 18, 2012
Petrovietnam's Deputy General Manager Mr. Phan Tien Vien will kick start the conference with an address detailing 2011 Licensing Round which covers 9 offshore blocks - the nation's first offer in of four years and its biggest in recent times, latest PSC contracts as well as opportunities in Offshore Deepwater exploration.
Next to present is Mr. Kevin Meyer, Exploration Manager from Talisman Vietnam, with insights into latest developments, expansion plans, success stories and experiences in exploring the Nam Con Son Basin.
Together with 16 other key speakers, the 14th VOGP summit promises to uncover topical issues dominating the vietnam energy sector including:

FLNG and how will it affect Vietnam's O&G Sector by Shell Vietnam's Country Chairman Mr. Thanh Le
Oil & gas market outlook, supply/demand projections, price dynamics, global LNG supply/demand balance, and its implications for Vietnam by Mr. Michael Rodgers, Partner & Head of Asia from PFC Energy
Pipeline projects in Vietnam particularly Operational and planned pipelines including Plans for cross border pipelines by Mr. Stuart R Traver, Principal Advisor – Downstream and Strategy from Gaffney Cline and Associates (Consultants) Pte. Ltd
Vietnam's Growing LPG Market - current demand and consumption trends, local supply, imports and exports, projected production at Nghi Son, prospects for exports and LPG as petrochemical feedstock by Vietnam Petroleum Institute 's expert Mr. Doan Tien Quyet
Insights on Latest Developments on Tax Policy and Tax Practice plus Its Impact on the O&G and Power Industry by Mr. Ta Hong Thai, Partner, KPMG Limited
Power Generation and Transmission Projects by Mr. Luu Viet Tien, Deputy Director of Technical Department from National Power Transmission Corporation (Subsidiary of EVN) and Mr. Nguyen Duc Ninh, Manager of Power System Analysis and Planning Dept. National Load Dispatch Centre
Building a Competitive Electricity Market session encompassing Current prices vs market based prices, Electricity requirements and consumption trends, Meeting electricity demand, Challenges and issues plus Vietnam Competitive Generation Market (VCGM) by Mr.Tran Dang Khoa, Director of Market Power Department from Electricity of Vietnam (EVN)
Progress status of PPPs/BOTs, PPP or BOT, Decree 24 and Decision 1604 - the impact on BOT/BT/BTO to be covered in Legal Developments in Power Projects paper by Mr. Tony Foster, Partner – Vietnam, Freshfields Bruckhaus Deringer
Criteria for financing, expectations, Challenges in Vietnam and Credit evaluation via a presentation entitled Power Projects Financing Challenges in A Weakening Global Economy by Mr. Gilles Pascual, Head of Power and Renewables Asia, Project Finance, Hongkong & Shanghai Banking Corp Ltd
... Plus Many More
The 1.5 day meet is already attracting participation from key oil & gas industry executives, as well as professionals from Oil & Gas & Petrochemical Companies, Government Officials, Energy Consultants, Additives and Catalyst Companies, Project Financiers, Storage & Terminal and EPC Companies.
Those keen to participate and join representatives of the oil, gas & power value chain from countries around the world may register online today at http://www.cmtevents.com/eventschedule.aspx?ev=120209&
###