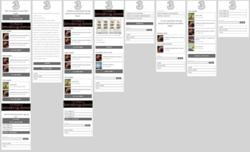 We are thrilled to be launching this unique new service within Three Indonesia.
Stockholm, Sweden (PRWEB) January 17, 2012
24MAS today launched a pioneering new game rental service for feature and smartphones with Three Indonesia, powered by 24 MAS's unique technology system 123PLAY.COM. Three's customers will be able to access up to 400 premium mobile games for smartphones and feature phones on a rental basis. By paying a small rental fee, users get a great value proposition including zero rated data and access to a huge catalogue of content, whilst carriers such as Three are able to offer a real value driven promotion against the major app stores. The service will be branded as a Three service in the market, launching with a national marketing campaign including Facebook, to over 40 million social users.
Based on 24 MAS's unique wrapper technology system, 123PLAY, services such as app rental and subscription services can be set up quickly and easily for carriers and media partners anywhere in the world. By combining billing, distribution and a value driven offer, the service can be tailored depending on local market conditions and price points.
"We are thrilled to be launching this unique new service within Three Indonesia. The unique concept of offering a huge amount of content for a relatively low price on a timed basis means for our customers a real value offer. The service is simple and easy to use and is a great marketing message to communicate," commented Bhuwan Kulshreshtha, Chief Commercial officer of Three.
"Once again, 24 MAS has brought to market a service that both satisfies today's carrier demands whilst offering a unique customer proposition in today's economic times. This is the first in a global roll out of 123PLAY.com services and stores and we are delighted to be launching today with Three" says Tero Turunen, CEO 24MAS.
About 24MAS
24MAS Group of companies focuses on three key market operations – mobile marketing and advertising, application development & publishing and managed services & solutions. With offices and operations in Asia-Pacific, Latin America, Europe and North America, 24MAS partners with over 200 mobile operators, handset manufacturers and technology companies worldwide. 24MAS gives brands and application developers the opportunity to reach mobile subscribers in more than 80 countries via its application, advertising and technical platforms. Headquartered in Stockholm, Sweden since 2001, the company employs 155 employees in ten global offices. Visit http://www.24MAS.com for more information and join our Facebook community & follow us on Twitter at @24MAS.
About Hutchison CP Telecommunications
PT. Hutchison CP Telecommunications ("HCPT") is a rapidly growing telecommunications service provider operating under the National 2G/GSM 1800 MHz and the 3G/WCDMA licenses in Indonesia. HCPT provides quality and innovative mobile telephony services under the "3" brand. HCPT offers tariff and product innovations and moves with fast network expansion to become one of the leading GSM operators in Indonesia with national coverage.
HCPT is a member of Hutchison Asia Telecom which comprises mobile telecommunications operations in the emerging markets of Indonesia, Vietnam and Sri Lanka. Hutchison Asia telecom is a key part of Hutchison Whampoa Group's telecommunications division which includes the 3 Group comprising 3G operations in Australia, Austria, Denmark, Hong Kong, Ireland, Italy, Macau, Sweden and the UK.
For more information about Hutchison Asia Telecom and HWL, see http://www.hutchison-whampoa.com.
For more information about HCPT, see http://www.tri.co.id.
Contact:
press(at)24mas(dot)com
+ 41 43 542 9194
# # #