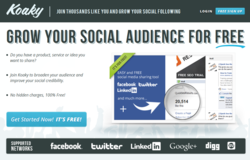 Our vision is to provide online users free services...-JP Bisson
Cebu, CEB (PRWEB) January 18, 2012
Clicking Labs, the leading provider of Web 2.0 business applications, is unstoppable with its new free ventures. The company recently launched its free social media sharing tool, Koaky, that helps businesses, individuals and organizations grow their social networks through an online social exchange system. It is made simple as users are just a mere click away to acquiring Facebook Likes, Twitter Followers, Web traffic and shares.
Today, Clicking Labs launches Koaky's latest user friendly interface for the website. New users will be welcomed by its new Koaky's fresh and clean appearance and easy log-in and sign up procedure. This latest user interface is also supported by the Google translate application. "Our vision is to provide online users free services while eliminating minor impediments that can be overcome by a dedicated company committed to helping individuals and businesses grow online", says Business Development – Managing Director, Jonathan Kennedy.
Koaky is the latest service online to easily grow your social networks. It is a free social media sharing online platform that can help struggling start-up companies gather online exposure and credibility. The process is simple and easy to use. When a person signs up for Koaky, they have the ability to earn and redeem points. Each point is equivalent to two (2) actions. An action may come across as following a new Twitter user, sharing a link on Facebook Share, or following another user on Stumble Upon. After earning points, a user can then redeem the points he has earned to grow his social network profiles. Koaky's system is based on a mutual respect for other users and fostering growth within the community.
Koaky currently offers the following social networks: Facebook, Facebook Share, Twitter, Retweet, Digg, Google Plus, Stumble Upon, and LinkedIn. These supported networks will be more pronounced and widely available starting with this new development.
Learn more about Koaky at http://www.koaky.com and start growing your social networks.
About
Koaky is a wholly owned company by Clicking Labs. With dedication and perseverance they were able to bring together a diverse team of web professionals to provide internet businesses with creative web marketing strategies. Founded in Ottawa, Canada, the company has expanded operations to Cebu, Philippines in early 2011 to better serve its clients.
###