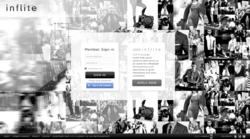 Inflite is representative of a certain type of entrepreneurial lifestyle where someone is always on the go and making things happen. - inflite Co-Founder, Kevin Tighe
Los Angeles, CA (PRWEB) January 16, 2012
There has been a paradigm shift in company culture from heavily corporate and private to highly entrepreneurial and transparent. For founders and employees, business is no longer just a 9 to 5, it is a lifestyle. Consumers also look at businesses differently. They no longer just analyze a company's products, they want to know who founded it, the story of how it begas, what the office looks like, what charities it may be tied to and more. This interest has made it increasingly important for the founders and executives of a company to come out of their offices and share their world with consumers and other entrepreneurs. Inflite.com, launching during the Sundance Film Festival, provides entrepreneurial professionals the outlet to efficiently and effectively share the personal side of their professional lifestyle.
Current social media and micro blogging platforms available allow a diverse crowd of people to share content, but none of these sites fit the need of the entrepreneur as inflite does. Inflite aims to serve as the main hub for entrepreneurs, executives and other professionals to host their personal websites. The inflite platform meets the needs of entrepreneurial professionals by protecting their content with auto copyright, increasing exposure to the user and their business, adding efficiency by easily uploading via mobile and simultaneously sharing content across multiple accounts on Twitter, Facebook , Google+, LinkedIN and Tumblr. Furthermore, inflite Co-Founder, Kevin Tighe, says, "It is important for entrepreneurs to protect their image and associate themselves accordingly, which is why we have instituted an application process. As an entrepreneur, I do not want to host my personal website on the same platform as my thirteen year old nephew and I do not want to place that content directly on my company's website. Inflite provides the perfect outlet to do so." Tighe mentioned inflite members can expect internal networking features to facilitate business in the near future.
Inflite will be launching into its beta phase on January 20th during the Sundance Film Festival in Park City, UT. The Fender Music Lodge will be using a company inflite site (FenderMusicLodge.inflite.com) to report on all of the action coming from the lodge during the first weekend of the festival. "Inflite is representative of a certain type of entrepreneurial lifestyle where someone is always on the go and making things happen. The Sundance Film Festival is a perfect example of an event that we would classify as being inflite, so it made sense to launch during this time," said Tighe.
Currently, users can sign-up for an early application at Inflite.com and will be able to apply for their inflite sites shortly as well as download the inflite iPhone App. Find more information and updates on the inflite Twitter and Facebook pages.
About inflite GROUP
Inflite.com is a subsidiary of the inflite GROUP, which was founded in 2011 with the mission of taking the entrepreneurial lifestyle to new heights. The company builds web platforms and creates content catered toward entrepreneurial professionals and their personal lives. Inflite GROUP currently has 15 employees and offices in Downtown Los Angeles and Scottsdale, AZ.
# # #