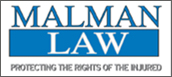 This is about the proper care of our elderly parents and grandparents, and it's about justice. It's not going to be so easy for these profit-first managers anymore.
Chicago, IL (PRWEB) January 16, 2012
Malman Law announced Friday that it successfully settled a record number of nursing home-related cases in 2011.
Thanks to the tireless work of its highly focused Nursing Home Team (including four attorneys, three paralegals and several administrative staffers), the targeting of elder care facilities guilty of neglect, physical abuse and worse has "become a huge part of our firm," according to founding partner Steven Malman.
"This is a complicated and emotional issue," the attorney said. "But the bottom line is this: There are over 5,000 nursing homes in Illinois and the majority is centered in and around Chicago. They're run by a handful of families and large corporations that manage these facilities as cheaply as possible to generate the biggest profit, and as a result, in many cases, the patients are truly suffering."
Malman cited "an overall system of incredibly poor care" and blamed drastic Medicare and Medicaid cuts over the years that have "reduced the profitability of these homes to the point where the only way to be profitable is to cut staff."
"This really stems from a lack of money provided by the government," he noted. "But the truth is, most of these homes are putting profitability first."
Combined with various societal and economic factors – including longer life spans and a nursing home population that's exploding as the elderly relocate to the dense Chicago area to be closer to their kids – it's a "recipe for disaster," the attorney added. Poor training, insufficient supplies and generally substandard care have left elderly patients to suffer everything from bed sores and malnutrition to physical and sexual abuse.
It's also encouraged Malman Law to create its Nursing Home Team, which according to Malman has quickly pushed the firm to the top of Chicago's heap in terms of nursing home-related lawsuits filed and successfully settled.
"We opened a record number of nursing home cases this year, and resolved more of them than ever before," Steven Malman said. "There were stretches where we were in mediations and successfully resolved three or four cases a day."
After learning about the "ongoing problem" at many Chicago-area nursing homes about seven years ago, his firm "started realizing what we could do in this area," Malman added. Soon, Malman Law made a name for itself by winning half-a-dozen other high-profile nursing home-related cases, and this year it officially christened its dedicated Nursing Home Team – including one attorney who has focused exclusively on nursing home cases over the past seven years and another who previously worked as a defense attorney for elder-care facilities.
"It's like we're in a football game, and now I have the other team's playbook," Steven Malman noted of that former defense attorney. "We know everything they're going to try because we have her on our side."
Not every nursing home is poorly run, the attorney said, and many obviously put their patients' wellbeing first. But there are many out there that "just don't care," he added, and the formidable Nursing Home Team packs exactly the right legal punch to take on a "corrupt nursing home system that's causing so much hardship and pain for so many people."
It proved that in 2011, he said, and will continue to do so in 2012.
"I expect the Nursing Home Team will be very busy next year," Steven Malman said. "This is a problem of epidemic proportions. Not only are so many of these nursing homes poorly run, but they have significant legal resources to cover their tracks. You need significant legal resources to counter that, and that's precisely what our Nursing Home Team offers.
"This is about the proper care of our elderly parents and grandparents, and it's about justice," he added. "It's not going to be so easy for these profit-first managers anymore."
About Malman Law
Steven Malman graduated from of the University of Iowa and the School of Law at Loyola University-Chicago, and celebrated his 20th year of legal practice in November 2011. Since Malman Law launched in 1994 (with just Malman, one secretary and one assistant), it has grown to include seven attorneys and over a dozen paralegals and administrative staff. The firm has successfully resolved over 8,000 cases, primarily in the areas of workers' compensation and personal injury, and boasts a 95-percent out-of-court settlement rate. With numerous seven-digit personal injury verdicts to its credit, Malman Law is one the most successful firms serving clients in Illinois' Cook, Lake, Dupage and Will counties.
# # #