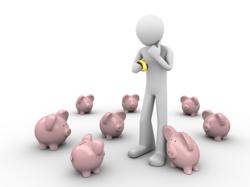 Apart from having more control over their pension pot, what appeals to many investors is that they have the choice on where to invest their hard-earned money
United Kingdom (PRWEB UK) 18 January 2012
It is this uncertainty that has prompted a huge surge in SIPPs (Self Invested Personal Pension Plans) as investors choose to take control of their own pension pots. Financial services expert Gavin Perrett, Director of Liddle Perrett Worldwide, believes it's the way forward for many investors.
"We saw an unprecedented 80% increase in SIPP investments in 2011," says Gavin. "Nationally the SIPP market is growing by around 30% per year and we expect that to increase. SIPPs have been available since the 1990s but were traditionally favoured by wealthy investors; now this opportunity is being utilised by the masses even when they have relatively small pension funds or stagnant pensions that they haven't been contributing to for some time."
Although governed by the same tax and contribution rules as standard pensions, SIPPs offer a wealth of choice as to how and when you invest your money, and particularly where you choose to invest. Although a SIPP can be managed as a standard investment fund, if the investor chooses there are literally a world of investment alternatives to choose from.
"Apart from having more control over their pension pot, what appeals to many investors is that they have the choice on where to invest their hard-earned money," explains Gavin. "Alongside mainstream funds, SIPP investments in UK commercial property are on the increase, as well worldwide properties in upcoming places like the Caribbean and Cape Verde Islands, which are ideal for investors wanting a more tangible investment. Essentially, SIPPs offer choice that can be tailored to a client's personal requirements, to their short or long-term plans, level of risk and even to the point of choosing ethical or eco-friendly investment alternatives. It's all about choice and being able to take control of what is ultimately your own future."
Liddle Perrett Worldwide are based in Wadhurst, East Sussex, Bolton, Greater Manchester, Halifax, West Yorkshire, Central London and Brentwood, Essex. Telephone 0845 8948441 or visit Liddle Perrett
###