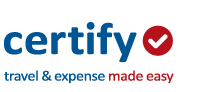 "The exceptional level of service we got from Certify allowed our team to quickly adopt the new solution at all levels of the company.
-Yoav Millet, CFO
On-Net Surveillance Systems, Inc.
Portland, ME (PRWEB) January 17, 2012
Certify, a leading online travel and expense management company, today announced a major enhancement to customer support with its new Knowledge Base, a fully integrated self-service support and information center for Certify users. The new enhancement from Certify further positions the firm not only as a leading travel and expense platform but also the most user-friendly product in the space today.
The new Certify Knowledge Base allows all Certify users to gain access to common in-bound support solutions, Frequently Asked Questions, functional documentation and user training videos. By analyzing support tickets and advanced user tracking logs, Knowledge Base content has been statistically selected to automatically answer the questions users are most likely to ask. In addition to Frequently Asked Questions, the system keeps track of Knowledge Base usage to recommend most helpful and frequently referenced articles. Integrated images combined with a fresh philosophy of technical documentation for software-as-a-service (SaaS) delivery deliver an intriguing and immediately helpful experience for end users.
"Many SaaS vendors deliver a customer support experience that is mediocre at best," said Alan Neveu, Chief Technology Officer and co-founder of Certify. "Enterprise SaaS is in our DNA, and so we chose to start with a blank slate and really determine our fundamental requirements for self-service support. From analysis of user patterns to the writing style used for the content, we left no stone unturned. The process made us realize we had to build this ourselves in order to achieve the desired result - we just couldn't reuse anyone else's standard support portal."
Implementing a new enterprise solution of any kind can be difficult, but Certify understands the factors at play and has worked extensively to make the implementation and adoption of their solution simple for all users. Certify offers in-depth training to all new clients and users, as well as a live, US-based customer support team available to all On Demand and Enterprise customers. The Certify Knowledge Base provides the company with a platform to deliver enhanced support services to its rapidly growing client base.
In addition to the new Knowledge Base, Certify has recently launched its online travel booking tool, Certify Travel, where users can book flights from all major airline providers, as well as book hotels and rental cars. All travel booked through Certify Travel automatically creates a new expense report with an expense entry for each travel item, facilitating seamless integration between booking business travel and managing travel expenses.
About Certify
Certify, LLC, is an online travel and expense management company that provides expense report and travel booking to corporations and individuals. The company provides a true SaaS on-demand travel and expense management solution which includes capturing receipts via mobile applications, and corporate credit card integration. Headquarters are located in Portland, Maine. For more information about Certify please call 207.773.6100 or visit http://www.Certify.com.
###