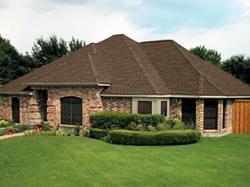 Wayne, NJ (PRWEB) January 17, 2012
Does your roof need to be replaced? It's a big investment, and you may be wondering about how big your roof is and how many shingles you'll need. So GAF, North America's largest roofing manufacturer is teaming up with Pictometry International Corp. to offer the "GAF Roof Wizard Sky View Report." This report features Pictometry Intelligent Images – aerial oblique imagery that is geo-referenced to estimate the number of squares on your roof – for free!
Through gaf.com, GAF encourages homeowners to explore different roof designs via the "GAF Roof Wizard" tool, which takes you through the entire GAF roofing system step by step and gives you a report of the roof design you like best so you can discuss your choices with your roofing contractor. Now GAF is giving you the option to obtain a free "Roof Wizard Sky View Report" (for a limited time). You'll receive an aerial survey of your home along with an estimate of the number of squares of roofing materials your home will require.
Reports with a beautiful aerial view of your home are provided within just 48 hours. To ensure you receive sufficient information about replacing your roof, GAF will also provide your information, with your consent, to two of our factory-certified Master Elite™ contractors in your area, who will answer any questions you might have—saving you the time and frustration of trying to find a reputable roofing contractor. Because of GAF's stringent standards, only the top 3% of all roofing contractors have qualified as Master Elite™ contractors!
To learn more about GAF roofing products or our Factory-Certified Contractor program, visit http://www.gaf.com.
About GAF
Founded in 1886, GAF has become the largest roofing manufacturer in North America. The company's products include a comprehensive portfolio of steep-slope and commercial roofing systems, which are supported by an extensive national network of factory-certified contractors. Its success is driven by its commitment to Advanced Quality, Industry Expertise, and Solutions Made Simple for contractors, specifiers, and property owners alike. In 2011, GAF was the first roofing manufacturer to offer a Lifetime limited warranty on all of its laminated shingles and, in 2012, it introduced the GAF Lifetime Roofing System.
With a focus on social responsibility, GAF has developed Advanced Protection® Shingle Technology, which provides superior durability and wind resistance while reducing the use of scarce natural resources. The company has also developed single-ply and asphaltic membranes with superior durability and high reflectivity to meet the most rigorous industry standards while helping commercial property owners and designers reduce energy consumption.
GAF also supports the roofing industry through CARE, the Center for the Advancement of Roofing Excellence, which has provided education to over 125,000 professionals. CARE's mission is to help professional contractors and distributors build their businesses through sales and management education, and to provide product and installation training to contractors, distributors, architects, property owners, and related industry personnel. For more information about GAF, visit http://www.gaf.com.
About Pictometry
Pictometry International Corp. produces aerial oblique imagery that is geo-referenced to enable accurate metric measurement of area, height, distance, elevation, bearing, pitch and more, directly on imagery. Pictometry captures imagery using a patented process and maintains a continually updated global image library which currently contains over 145 million digital aerial images representing over 85 percent of the United States population, including all major U.S. markets and cities in 148 countries and territories around the world. For more information, visit http://www.pictometry.com.
###