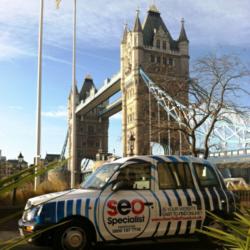 Most online marketing companies never give advice about smart domain name strategies or what's important in content writing. This internet marketing campaign is an effort to explain what matters in simple terms.
London, UK (PRWEB) January 17, 2012
Many British companies struggle to be found online, with increasing competition in organic search and higher click prices in the paid search results. Adding to the problem, countless of enterprises don't know the most basic rules to be found in top of search engine result pages.
SEO Specialist has identified four of the most important factors that many small and medium seized businesses overlook and put it together on a dedicated website, HowToBeFound.co.uk.
What can be learnt from the online marketing campaign site?
How to be found opens up with a guide how to choose appropriate domain names, discussing different strategies around domain names and search engine visibility.
Many business take shortcuts with regards to domain names, hoping it will save them money. Perhaps a company go for an .info or .net domain extension instead of the more recognised .co.uk or .com domain extensions. Other negative domain factors include adding hyphens, ltd or any other extra word in the end of a domain name. This usually makes the domain name look longer and becomes way harder to remember.
The problem is that this intended 'money savers' make the business look less credible and reputable, while drawing less attention in search engines and becoming less memorable. This might lead to lower click through rate from search engines and a general feeling that the website is not very professional.
The other helpful parts of the promotional website include website optimisation tips, how to make your web content better and more unique and finally how to tackle increasing competition in the field of paid search.
How to be found on London cabs
Two attention drawing full livery taxis will drive around central London for 12 months, starting the 17th of January. Both the doors, bonnet, roof and tip-up seats inside the taxis will feature SEO Specialist's logo and advert message; Is your website easy to find online?
The design on the taxi draws the attention into the logo and the website URL by using a circular pattern. Taxi advertising company Transport Media have sourced the drivers and printed the design to a high quality on the taxis. SEO Specialist's web design team created the taxi design concept and campaign website.
The 'how to be found website' goes live the 23rd of January and aims to be informative for anyone who is finding it a struggle getting their websites found in commonly known search engines such as Bing, Google and Yahoo.
About SEO Specialist:
SEO Specialist http://www.seospecialist.co.uk is a London based SEO company, established in 2011. For those new to website optimisation, the comprehensive SEO school can be helpful. SEO solutions offered include multilingual search engine optimisation, pay on results SEO, pay per click solutions, link building services, SEO copywriting and other a wide range of other SEO services. SEO Specialist focus on performance based services and search marketing consulting, giving risk free investment opportunities for website owners.
###