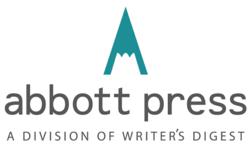 Bloomington, IND (PRWEB) January 16, 2012
Abbott Press, a division of Writer's Digest, today announced it will be a participating sponsor of the Writer's Digest Conference, which is being held at the Sheraton New York Hotel & Towers in New York City on January 20–22. The three-day conference is designed to connect authors with influential agents, industry innovators and the creative minds that define the publishing world.
The theme of this year's conference is "Get discovered—get published," and will focus on getting authors in front of agents, and educating authors about the new and emerging opportunities available in the industry, including self-publishing options like those available through Abbott Press. Representatives from Abbott Press will also be available to discuss the advantages to self-publishing, as well as the marketing and sales strategies essential for success in the digital world.
"Writer's Digest is one of the most respected organizations by authors, and we are delighted to participate in their annual conference, where so many writers and publishing industry leaders come together to network and share information," said Keith Ogorek, senior vice president of marketing at Abbott Press partner Author Solutions, Inc. Ogorek, who has authored two books, "Eli the Stable Boy" and "A Clear View," is also a speaker at the event.
To learn more about the Writer's Digest Conference, please visit: http://www.writersdigestconference.com. For more information about self-publishing with Abbott Press, visit http://www.abbottpress.com.
About Abbott Press
Abbott Press, a division of Writer's Digest—the oldest and most respected publisher devoted to the education and advancement of writers—is an indie-publishing imprint dedicated to helping writers bring their literary vision to digital and print. Author Solutions, Inc., a leader in indie book publishing, will fulfill publishing, sales, and marketing services for Abbott Press. For more information, or to begin publishing a book today, log on to http://www.abbottpress.com or call 866-697-5310. For the latest, follow @abbottpress on Twitter or friend Abbott Press on Facebook.
###