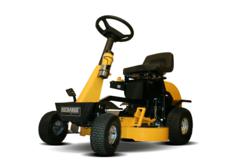 We have a list of customers that have already purchased or have added their names to our waiting list
Carson, CA (PRWEB) January 18, 2012
The Recharge Mower G2 cuts up to 2 acres on a single charge. The 36v85Ah battery plant powers the heavy-duty drive system along with the 2 direct drive cutting motors. The all-steel deck features 7 selectable cutting height adjustments and comes with your choice of environmentally friendly side discharge or mulching as finishes to a perfectly manicured lawn.
"This is an exciting and proud day for our team" says company President Allan Hechtman. " We have a list of customers that have already purchased or have added their names to our waiting list and we are now ready to ship."
The Recharge Mower G2 is so easy to operate. Just toggle from forward motion to reverse, a single pedal operates drive and braking, depress a button to engage the cutting blades and there is even an electromagnetic parking brake to keep it from moving when not in use.
The Recharge Mower G2 can be purchased directly from the company website. It will soon also be available for purchase in the United States from a host of online partners including: Amazon.com HomeDepot.com, Lowes.com, MowersDirect.com and Sears.com, In Canada, the G2 will be available at all Lowes Stores and at or through Home Hardware dealers.
Learn more by visiting our website at http://www.RechargeMower.com for product details and videos. You can also contact the company directly at 905-997-9300.
Driven By Solar Inc., the company behind the Recharge Mower and Recharge Tools brands and registered trademarks, was established in early 2008. The company is focused on developing, producing and marketing a growing selection of environmentally friendly lawn and garden tools. The company can be reached at Info(at)rechargemower(dot)com or by calling 905-997-9300. The company credo… A greener lawn. A greener planet. Remains well entrenched.
###