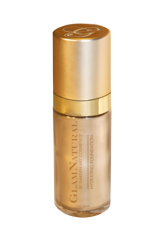 Akron, OH (PRWEB) January 16, 2012
Akron-based Garden Art Cosmetics™ announces the launch of their GlamNatural brand into salons and spas beginning with Rian A Hair Studio at 620 Ridgewood Crossing, Suite F, Akron, OH 44333. The brand's patent-pending, water-free Hydrating Foundation and Cream Blush are unique, concentrated cosmetics requiring unique application. Makeup artist Kit Rogers – formerly an Oprah beauty contributor – will be at the salon demonstrating proper use and technique for the application of the two BodySafe™ products January 19, 2012 from 2pm – 8pm.
Manufactured in the USA, the Hydrating Foundation and Cream Blush are Shea-butter based and packaged in recyclable glass bottles with airless pumps. The foundation retails for $65, while the blush retails for $32. All GlamNatural products are BodySafe™ - a standard to which the company strictly adheres, meaning its products are: Hypo-allergenic, Vegan, Gluten free, Cruelty free, Talc free, Formaldehyde free, Mineral Oil free, Petroleum free, Harmful Emulsifier free, Phthalates free, Sodium Lauryl Sulfate free, Synthetic Dye free, Synthetic Fragrance free, and EU Cosmetics Directive Compliant.
Rian A Hair Studio was chosen as the first salon in the country to carry the GlamNatural products. Owner Rian O'Dear is avidly supportive of the GlamNatural mission – to create premium, BodySafe™ products for mindful consumers, and is proud to be the first salon to adopt the line.
GlamNatural by Garden Art Cosmetics™ is a responsible cosmetics manufacturer. The company donates 10% of the profits from all makeup sales to cancer research and care, beginning with Stewart's Caring Place – the Akron, Ohio facility the CEO turned to during his wife's battle with the disease. Visit them at http://www.glamnaturalmakeup.com. Rian A Hair Studio can be viewed on the web at http://www.rianahairstudio.com and is located at 620 Ridgewood Crossing in Akron, OH. Salon inquiries: call (330) 666-2435.
###