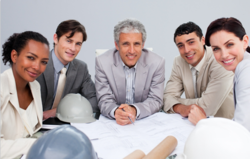 "Medical Home Builder 2.0 is a great roadmap for practices. ACP understands how physicians think and organize their practice." Richard Snyder, MD, chief medical officer for Independence Blue Cross.
Philadelphia, PA (PRWEB) January 19, 2012
Two large medical insurance carriers have begun the year by providing access for thousands of primary care clinicians to use a new program for practice management. The American College of Physicians (ACP) developed the program Medical Home Builder 2.0 as an online tool to help ambulatory care offices improve patient care, organization and workflow.
Independence Blue Cross of Philadelphia and CareFirst BlueCross BlueShield, which offers health care insurance throughout Maryland, Virginia and Washington, DC, will fund the enrollments of more than 3,500 area physicians in ACP's Medical Home Builder 2.0.
Medical Home Builder 2.0 is a robust, yet easy-to-use, self-paced online tool that physicians and their staffs may use to measure and—where needed—improve patient care, office procedures, and workflows according to the Patient-Centered Medical Home model. Thirteen modules on various aspects of practice management have been released, with another three set for completion and release in the spring.
"We are providing participating practices with online tools and information never before available to help them provide care in a way that can improve quality and reduce costs over time." said CareFirst President and Chief Executive Officer Chester "Chet" Burrell. "By working with ACP, we are making available yet another resource to PCMH physicians, nurse practitioners and office staff to improve the delivery of patient care."
"Many practices are interested in becoming a medical home, but are struggling to know where to begin," said Richard Snyder, MD, chief medical officer for Independence Blue Cross. "Medical Home Builder 2.0 is a great roadmap for practices. ACP understands how physicians think and organize their practice."
ACP Senior Vice President Michael Barr agreed and said, "ACP is excited to be collaborating with organizations like CareFirst BlueCross BlueShield and Independence Blue Cross. We believe that Medical Home Builder 2.0 is an effective way to help practices deliver patient-centered, cost-effective and high-quality care health care."
MHB 2.0 users are part of an online community of PCMH practices, large and small, that are committed to improving patient care. Practices will have access to best-practice videos and a discussion board, where questions can be posed to a community of MHB 2.0 colleagues. Modules available through MHB 2.0 focus on developing Patient-Centered Medical Homes and other associated clinical topics.
Each module includes:

Background information—an explanation of key principles, research and important concepts for members of the PCMH team.
The Practice Biopsy—a self-assessment that covers National Committee for Quality Assurance (NCQA), Utilization Review Accreditation Commission (URAC), and draft Joint Commission standards. The Practice Biopsy helps practices identify opportunities for improvement—or validate efforts a practice has already undertaken in this area.
A Case Study—"How It Works in Practice" describes the efforts of one practice as it works through problems commonly encountered by ambulatory care practices.
The Resource Library—a virtual bookshelf, which includes relevant references and informative guides in a variety of formats including downloadable guides and policy templates.
Reporting functions—to help track progress over time, identify opportunities for improvement and compare practices.
Both CareFirst and Independence Blue Cross are making the MHB 2.0 tool available at no cost to primary care practices participating in their programs to help improve their ability to provide coordinated, more efficient care.
For more information, visit http://www.medicalhomebuilder.org.
About the American College of Physicians.
The American College of Physicians is the largest medical specialty organization and the second-largest physician group in the United States. ACP members include 132,000 internal medicine physicians (internists), related subspecialists, and medical students. Internists specialize in the prevention, detection, and treatment of illness in adults. Follow ACP on Twitter and Facebook.
###