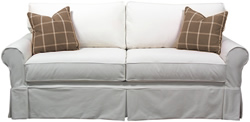 Florida (PRWEB) January 17, 2012
Nantuckit Furniture Company LLC, a US based furniture retailer, has released an array of new fabrics to cover their entire line of Cottage slipcovered furniture.
The entire new line of furniture fabrics can be viewed here.
Nantuckit Furniture is raising the bar in custom furniture. For those looking for the highest quality, custom furniture made in the United States, these new fabrics will provide an excellent selection for those looking for the latest styles of 2012.
The fabrics are in a variety of materials including 100% Cotton, 100% Belgian Linen and a variety of mixed fabrics. The designs range from updated solid colors to beautiful new floral and design prints for all types of furniture.
Nantuckit Furniture Company LLC is a leading online retailer of high quality US produced custom furniture. Specializing in slipcovered and upholstered furniture, customers can choose exactly what style of furniture they want and have it custom made with their own fabric selections.
###