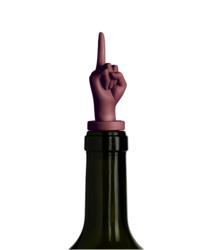 "Our wine stopper creations help address social challenges in a fun and slightly irreverent way. Laughter is, after all, the best medicine!" Spit Bucket CEO, Jen Amis
(PRWEB) January 17, 2012
New seems to be the key word: New Year, New York, New Designs, New Partners. Spit Bucket's New Year's resolution is to design products inspired by social challenges, such as the fight against cancer. The California-based barware and home decor company will be launching a socially conscious Vinostop intended to "Give the Bird to the Big C" - with proceeds from sales going to cancer support groups. In the same vein as the original, more peaceful Vinostop, this wine preservation tool has been designed in the shape of the, ahem, "bird."
CEO Jen Amis said, "Everyone knows someone whose life had been affected by cancer. At Spit Bucket, all products we design are about making life a little bit more fun when times are good, and when they're not so good. Our wine stopper creations, for example, help address social challenges in a fun and slightly irreverent way. Laughter is, after all, the best medicine!"
The new design will be launched at the New York International Gift Fair and ready for the Spring 2012 season. Proceeds from the "Bird" Vinostop will go towards supporting sustainable cancer-focused non-governmental organizations.
In addition to the new stopper, Spit Bucket will premiere new packaging designs for the ever clever Vinostop and Vinocoast. The new packaging -- a sleek clear plastic box -- was designed to fully showcase the stylish and peaceful wine stoppers and the klutz-proof coasters for beverages. As always, Vinostop and Vinocoast are made from recycled materials.
Also at the NYIGF, Spit Bucket will be partnering with wine VEIL®, a unique new multi purpose wine accessory designed to creatively keep uninvited guests (like flies!) out of your wine. The relationship between Spit Bucket and wine VEIL was formed during the San Francisco International Gift Fair back in August 2011. Since then, they decided to come together again at NYIGF because of their mutual love of wine, design and the laid-back, fun aspects of wine consumption.
Spit Bucket and wine VEIL will be featured in the "New York's Newest" category, which is one of the largest growing categories in the show featuring an influx of more than 200 new companies from all over the world debuting new gift, home, and lifestyle products.
The NYIGF takes place January 28-February 2, 2012 in New York, NY.
About Spit Bucket, Inc.
Spit Bucket develops products for those who enjoy fine wine and fine design. Our products are developed from the mindset that wine should be fun and approachable (and it doesn't hurt to be a little bit pretty as well). The company was founded in 2009 by Michael Roché and Jennifer Amis and is based in Napa Valley, California.
About NYIGF
NYIGF is the largest gift fair in the US. Drawing 35,000 attendees from all 50 states and 85 countries, the NYIGF is produced twice annually by GLM Shows and is open to the trade only. Held in January and August in New York City, the Fair hosts 2,800 exhibiting companies showcasing the very best lines across the home, lifestyle and gift spectrum.
About wine VEIL®
wine VEIL®, a unique new multi purpose wine accessory. It is the perfect answer to enjoying wine outdoors. wine VEIL is designed to protect open wine in a glass, bottle or decanter from the insurgence of bugs (or anything that does not belong in the glass). wine VEIL also acts as a marker to identify whose wine is whose. Your wine breathes while simultaneously keeping the bugs out. Clever.
###