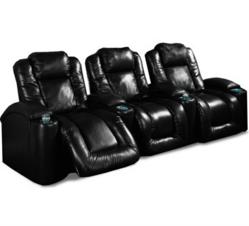 As football fans ourselves, we at Theater Seat Store are committed to helping our customers find the very best home theater seats to fit their budget
Golden, CO (PRWEB) January 18, 2012
TheaterSeatStore.com, the trusted online retailer of luxurious and affordable home theater seating, announces a new round of savings for new and existing customers alike. To help people get ready to cheer on their favorite teams in the Super Bowl, Theater Seat Store is offering a 5% discount on most of their home theater furniture inventory. This includes quick ship items as well as factory direct orders. Customers can enjoy savings on many top name brands including Klaussner, Jaymar and Lane, among others. These orders also include free shipping in the continental United States.
"As football fans ourselves, we at Theater Seat Store are committed to helping our customers find the very best home theater seats to fit their budget", said Kristen Linden, Web Store Manager of TheaterSeatStore.com. Linden also has this to say, "These savings are on top of our already low prices, and if you add free shipping into the mix, you get an unprecedented discount that is sure to make football fans celebrate".
Taking advantage of these savings is simple. Customers can log on to TheaterSeatStore.com and browse through the many home theater and sports seating products available. During checkout, customers only need to add the coupon code TSSSUPER to the appropriate field. The discount will be applied automatically, and works for everything in Theater Seat Store's catalog except for Palliser products. Theater Seat Store also gives customers two convenient ways to order. Customers can buy online or call one of Theater Seat Store's friendly Sales Professionals and give them the coupon code over the phone. Either way, people can take advantage of significant savings on high quality home theater furniture such as Bass reclining furniture or Lane home theater seats.
"Super Bowl Sunday" has become an unofficial American national holiday, as well as the second highest day for food consumption in the U.S. behind Thanksgiving Day. This year's Super Bowl will take place in Indianapolis on Sunday, February 5th, 2012. NFL teams are competing in the playoffs now to see who will go to Super Bowl XLVI. Customers need to act now to take advantage of this promotion, as it ends January 27, 2012. Acting sooner rather than later and choosing Quick Ship products will also ensure that furniture orders arrive before the big game.
About TheaterSeatStore.com – TheaterSeatStore.com is a division of InteriorMark, LLC, who is the market leading retailer of home theater furniture products, entertainment furniture, massage chairs, sofas and sectional sets and bedroom furniture. The company offers a wide range of products and services designed to enhance and decorate a living room space or dedicated home theater environment. InteriorMark is a member of the National Home Furnishing Association and is an A-rated member of the Better Business Bureau.
###