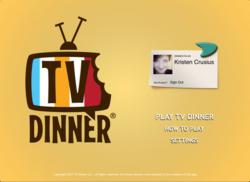 Our focus is completely different and our initial release of the product is only the beginning --Edward Babbage, COO
New York (PRWEB) January 24, 2012
Following a four hundred thousand dollar seed round in 2011, co-founders John Swords, Adam Broitman, and Edward Babbage have launched a semi-private beta version of a groundbreaking Social TV application called TV Dinner. The first version of TV Dinner is an iPad application, but the company will bring its exciting new product to all devices in the near future. John and Adam met as co-founders of awarding winning creative shop, Circ.us, and recruited Eddie Babbage, former CEO of an electronic music company Resonant Vibes.
TV Dinner's unique recipe for delivering real time events around television combines four key elements: (1) a true real-time infrastructure based on massively multiplayer online games, (2) a proprietary approach to structuring and displaying conversation, (3) fun self-expression tools, and (4) engaging gameplay elements. These elements grew out of inventor John Swords' deep experience in virtual worlds and massively multi-player online games.
"While working on an Emmy award winning virtual world initiative for CSI: New York in 2008, I came to the realization that a simplified interface without avatars could lower barriers to entry and engage a broader audience. When the iPad came out, I knew it was the perfect time for this." --John Swords, CEO
"We are very focused on solving the problem of how to allow friends and fellow TV fans that are scattered in different places to truly share the experience of watching television together in a unique way. Some of our competitors have tried to entice viewers by looking to existing concepts like "check-in" or ancillary features like using their iPad as a remote control. Our focus is completely different and our initial release of the product is only the beginning. Our team has begun planning exciting future iterations of the product. "
TV Dinner has an impressive board of advisors, including members from the tech, advertising and television space.
TV Dinner is swiftly working to bring its application to the entire public and to expand its coverage of television content to the ever-growing audiences looking to make their television experiences more social.
About TV Dinner:
TV Dinner is a platform that transforms television viewing into a fun and engaging social experience. The singular promise of TV Dinner is to deliver a true feeling of "eventness" – to let viewers experience their favorite shows as "live" events they can share with friends and fellow television fans.
Contact:
Adam Broitman
Marketing Director
347-862-9252
http://www.tv-dinner.com
###