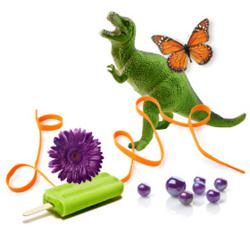 Color matters. It hugely affects the way we live in our environment. And to miss that with playgrounds would be tragic.
Delano, Minn. (PRWEB) January 17, 2012
Landscape Structures Inc., a Delano, Minn.-based commercial playground equipment manufacturer, announced the introduction of several new playground colors along with a brilliant collection of palettes featuring nature-inspired shades, urban tones, playful hues and everything in-between. The new playground colors, which were unveiled this month, will complement existing colors and playsystems while inspiring a unique play experience for children.
Color can attract attention, change moods and represent personalities. Because of its profound impact on human experience, color has been a main focus at Landscape Structures. The company looked at trends across architecture, art and design, and children's comic books to create palettes that deliver visual interest and a sense of harmony.
"We noticed a trend with our customers," explained Tory Roff, custom products designer and Landscape Structures' color expert. "Instead of choosing primary green and red, they leaned toward our richer, bolder colors. Color matters. It hugely affects the way we live in our environment. And to miss that with playgrounds would be tragic."
Taking queues from cross-industry trends, Landscape Structures added several new color options and created 16 beautiful color palettes. The colors and palettes are different from anything else offered in the playground industry, as they were inspired by items in our environment.
With the introduction of the new colors and palettes, Landscape Structures is changing their philosophy of how to choose colors during the playground purchasing process. Similar to a home remodel project, Landscape Structures' playground consultants and designers will work with customers to determine what colors will coordinate with the surrounding environment and how they fit with a particular design. Choosing colors now becomes an important beginning part of the process.
To learn more about Landscape Structures' color inspirations and how to create a playground environment that expresses your community's personality, visit playlsi.com/color-inspirations or call 888.438.6574.
Since 1971, Landscape Structures Inc. has been the leading commercial playground equipment manufacturer in the world. The employee-owned company is committed to making the world a better place with active children thriving in leading communities year after year, generation after generation. Landscape Structures encourages outdoor play that develops healthy kids and a sustainable world by creating innovative products that are environmentally responsible. The company's mission from day one has been to enhance children's lives by fostering and creating inspiring play experiences while honoring the environment.
###