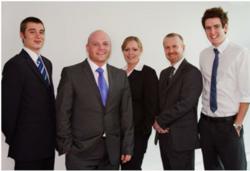 We are determined to be market leaders. We already have plans in place to increase our quality standards still further and ensure that customers can see a clear differentiation between us and other firms offering similar services
London, UK (PRWEB) January 17, 2012
An International Standard UKAS ISO 9001:2008 certification is a public testament of a company's excellent internal policies and practices, as well as its overall efficient quality management system. This honor has recently been achieved by Executive Compass, a company which has effectively gone down in history as the first bid and tender writing consultancy to be awarded the certification. Such accomplishment consequently amplified the demand for the consultants' work, and the company has responded with a campaign for expansion.
"These are exciting times. The next stage of our development is already under way and the whole team is involved. We have expanded our operations by taking on two university graduates, John and Luke," Neil Capstick, bid writing specialist and managing director, shares. "John graduated from Northumbria University with a degree in Business, while Luke recently finished his MA in Business at Durham University."
The company definitely takes great pride in being the sole writing agency to be UKAS ISO 9001:2008 certified for pre qualification questionnaire, bid and tender consultancy, and training services. "Yes, customers receive high quality tender writing services from us, but it goes beyond that. We measure our success rates, we listen to our customers and we have developed a unique and very successful method of writing bids that no other company can replicate," Capstick avers, explaining how Executive Compass earned the official seal of approval from the United Kingdom Accreditation Service. He discloses, "We are determined to be market leaders. We already have plans in place to increase our quality standards still further and ensure that customers can see a clear differentiation between us and other firms offering similar services."
Executive Compass faces a very bright future that entails growth in more ways than one. As it is, there are now plans to move the Newcastle upon Tyne-based company's headquarters on the East Quayside to a much larger office. The company is certainly aiming to add to the headcount by hiring more writers and administrative support. In any event, clients can rest assured that expansion will not diminish the great quality of the bid writing services provided by the agency. Capstick states, "We have a detailed recruitment process and few make it all the way through; this is one of the reasons we decided to hire highly intelligent and articulate graduates and train them in our unique system. It is the only way we can maintain and guarantee such high quality PQQ and tender submissions."
Things are bound to get even more exciting for Executive Compass with its impressive reputation preceding it and its growth leading to bigger business; however, with the company's commitment to quality, it will just find ways to get better and better.
###