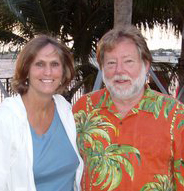 I've always had a heart for business people, especially Christian businessmen and Christian businesswomen serving God at work.
Washington DC (PRWEB) January 18, 2012
Local publisher Bill Snively proudly announces the release of the 31st annually published edition of The Shepherd's Guide for both Washington DC/Suburban MD and Northern VA. Publishing The Shepherd's Guide is an extensive, yet rewarding, process that requires hard work, dedication, and passion for the cause. Bill and his wife Ruth, as well as their advertisers, are extremely satisfied with the results.
Born in Elkton, MD and raised in suburban Maryland, Bill graduated from the University of Maryland with a Bachelor's degree in business marketing and also has a Masters of Divinity from Southeastern Baptist Seminary in Wake Forest, NC. Bill met his wife Ruth when he was just 19. She was the pastor's daughter at his church. Married in 1967, Bill and Ruth have been enjoying life's adventures together ever since. They have five children and four grandchildren. Bill had been a pastor at Ridgecrest Baptist Church in Newburgh, NY for a short time, and currently attends Bridge Church in Annapolis, MD. He and his family are extremely active in their local church community.
When he moved back to Maryland, Bill was living in Greater Baltimore and started his own advertising agency. Incidentally, Bill had actually considered starting a Christian yellow pages similar to what Doug Scheidt, founder of The Shepherd's Guide, had done; he decided against it, to avoid being mimeographical. After completing the very first edition of the Shepherd's Guide of Greater Baltimore, Doug was researching Christian prospects for his second edition. He found Bill's company, noticing that Bill was a Christian businessman, and asked him if he'd like to advertise in the Shepherd's Guide. At the time Doug was also beginning to prepare the very first edition of The Shepherd's Guide of Washington, DC. Though Bill did want to advertise in The Shepherd's Guide, he had to decline due to the fact that he was about to close his business. Instead of hanging up and moving on, Doug said to Bill "Why don't we pray about you owning and operating The Shepherd's Guide locally in Washington, DC." God clearly had a plan for Bill, because everything came together. When asked why he decided to go forth with the unique Christian opportunity with The Shepherd's Guide, Bill mentioned he's "always had a heart for business people, especially Christian businessmen and Christian businesswomen serving God at work. I liked the idea of what The Shepherd's Guide does and the way it worked and decided it was definitely something I'd like to be part of." In 1981, Bill became Doug's very first partner in The Shepherd's Guide, the owner of the first Shepherd's Guide franchise, as well as a close, personal friend of Doug's. Bill and Ruth have now been working on their local directories in the Suburban MD & Washington DC for over 31 years.
The Shepherd's Guide is the largest Christian business directory in the world, which is due mostly to local publishers like Bill. The Shepherd's Guide mission statement is to list every Christian owned business and Christian organization in order to build, strengthen and unite the Christian community. More specifically, Shepherd's Guide strives to connect Christian families with the services they need. The Shepherd's Guide is able to do this by teaming up with Christian business owners that sign the Statement of Faith, which is represented in every advertisement by displaying The Shepherd's Guide logo; A Logo You Can Trust. The Shepherd's Guide yields not only success stories about businesses, but friendships and evangelism opportunities as well. Bill stated that "several people have called and said they found the Lord through the scriptures in the book." One man called and said a friend led him to the Lord with The Shepherd's Guide. Often times, a consumer would find a business advertising in the Guide that they had previously known, but were not aware that they were Christian owned. Many times, this discovery was influential in a buying decision. Consumer benefit being one of the biggest goals, Bill also spoke of a time that a lawyer who advertised in The Shepherd's Guide represented a family that had lost a relative in a plane crash. The family benefited greatly from his representation. All of these success stories reiterate The Shepherd's Guide's goals, and the fact that it truly works.
Bill was thrilled to have been given this amazing opportunity, as his two passions in life were spreading the word of Jesus Christ, and Christian business marketing. As a businessman, mixing the two had been something he always dreamed of, and he remains grateful to God so many years later for presenting him with the perfect opportunity to do just that. Bill feels extremely blessed to be part of The Shepherd's Guide, and he, as well as hundreds of local advertisers, continuously express gratitude for the success and satisfaction The Shepherd's Guide has given them.
http://www.shepherdsguide.com
Official Shepherd's Guide Facebook
Shepherd's Guide on Google+
###