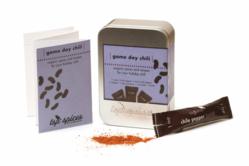 With tsp spices' convenient, single-serve teaspoon packets, it's easy to spice up favorite snack foods.
Baltimore, MD (PRWEB) January 17, 2012
Weekends full of football play-offs and Super Bowl festivities may be couch-potato heaven. But all those game-day snacks can be a calorie-fest that leads to unwanted pounds.
tsp spices, an award-winning spice company based in Baltimore, has suggestions to help football fans lighten the calorie load while boosting flavor with organic herbs and spices.
With tsp spices' convenient, single-serve teaspoon packets, it's easy to spice up favorite snack foods. Here are some tips:
Instead of dunking potato chips in a calorie-laden dip, simply empty a bag of chips on a cookie sheet, sprinkle with a packet or two of tsp spices organic ground cumin, warm gently in the oven at 300 degrees for 5 minutes and serve. Repeat at half-time.
For a slimmed-down but hearty dip, combine a can of vegetarian re-fried beans with a can of diced tomatoes (drained), a small ounce can of chopped green chile peppers and 2 teaspoon packets of tsp spices cumin. For a bit more bite, include a teaspoon of tsp spices ancho chile pepper. Combine the ingredients in a medium sauce pan, then warm mixture over medium heat, stirring until ingredients are thoroughly combined and the dip is warmed through. Serve with corn chips.
For that big, bold pot of chili, tsp spices urges fans to stir up their own chili pepper blend. It's easy with Game Day Chili , a stylish tin containing the spices and recipe http://www.tspspices.com/Recipes.aspx?id=62 for a perfectly seasoned pot of chili.
Organic spices and herbs are a great way to enjoy favorite snacks and recipes without packing on more pounds. And tsp spices allows cooks everywhere to bring new bursts of flavor to familiar foods, whether it's a snack as common as potato chips or a dish as familiar as chili.
tsp spices offers an easy solution to that annoying kitchen problem of stale spices. Sealed in airtight, flavor-saving packets, spices retain their pure, organic flavors far longer than spices in traditional bottles or jars.
Packed in stylish tins containing 12 teaspoon packets each, tsp spices offers 24 spices as well as combinations tins like Game Day Chili.
And because organic spices have no fillers or flow-agents, these packets contain nothing but pure flavor – which means that opening each packet is just like opening a brand new jar.
For more information, visit http://www.tspspices.com.
###