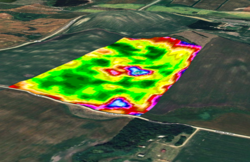 Farm Market iD is providing needed data on farmer's land-use at the field scale over time, as well as socio-economic data at the farm scale.
Westmont, IL (PRWEB) January 18, 2012
Agriculture data and marketing solutions company Farm Market iD, which is recognized for providing the most accurate and current agricultural data intelligence in the country, announced today that its data is being used by two major research institutions in a key agricultural land use project. The Farm Market iD database contains Common Land Unit (CLU) data combined with geo-spatial imagery for over 90 percent of the nation's farmland. A common land unit is the smallest unit of land that has a permanent contiguous boundary, common land cover and land management, a common owner, and common producer association.
Dr. Jason Bergtold of Kansas State University reported, "A component of the Kansas NSF EPSCoR Phase VI Project, "Biofuels and Climate Change: Farmers' Land Use Decisions," is a joint project between Kansas State University and the University of Kansas examining farmers' land use decisions on agricultural lands in the presence of an emerging biofuels market and climate change. A significant aspect of this project is to be able to analyze, capture, predict and visualize land-use change on agricultural lands through-out the state of Kansas over time. The project is utilizing detailed field-scale data obtained from Farm Market iD coupled with climate, landscape, soils and water from USDA and the Kansas Agriculture Remote Sensing (KARS) Program. Farm Market iD is providing needed data on farmer's land-use at the field scale over time, as well as socio-economic data at the farm scale. These data will allow the development of spatio-temporal economic models that can be utilized to predict land-use change from bioenergy crop adoption and climate change; maps of Kansas agricultural land-use; and impact assessments of indirect land-use change; government policy (e.g. bioenergy, conservation) and environmental impacts. The research team consists of a large group of scientists in the fields of anthropology, agricultural economics, economics, environmental engineering, geography, political science, rural sociology, sociology, urban planning. The project is supported by the National Science Foundation under Award No. EPS-0903806 and matching support from the State of Kansas through the Kansas Board of Regents."
Steve Rao, president of Farm Market iD said, "Research institutions, as well as agri-marketers, recognize the value of Farm Market iD's current and historical farmland data which has been compiled for over 20 years. All grower, crop and acre information for all program and many non-program crops is updated and validated annually through government and proprietary sources. This is a significant resource of government-verified data, which can be relied upon to track historic trends in U.S. agriculture, as well as provide data on current land use."
About Farm Market iD®:
Since 1973, Farm Market iD, located in Westmont, Illinois, has provided comprehensive production data to the agricultural industry. Unparalleled in its depth and robustness, the Farm Market iD database is used by virtually every major company in agriculture. In addition to its content accuracy and depth, Farm Market iD maintains its market-leading position through development of innovative and custom user applications. For more information, call (800) 313-4778 or visit http://www.farmmarketid.com.
###