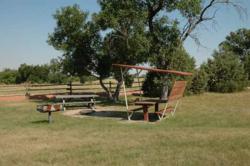 Bisbee, AZ (PRWEB) January 24, 2012
ForestCamping.com, the comprehensive website for camping in national forests and grasslands, recently visited Buffalo Gap National Grassland. It is featuring the grassland with detailed up-to-date campground information, photographs and things to do.
Located in southwestern South Dakota, and surrounding the Badlands National Park, Buffalo Gap National Grassland is a blend of rolling prairie, woodland draws, and dramatic rugged badlands. It offers a range of recreational opportunities from hiking to birdwatching, dispersed camping to rockhounding, hunting to photography, and so much more.
Buffalo Gap National Grassland has no developed campgrounds, and that might deter some campers, but there are many dispersed camping opportunities. A few specific locations, such as French Creek Picnic Area and Steer Creek Overlook, are described in ForestCamping.com with GPS coordinates provided. It is recommended campers obtain a free Motor Vehicle Use Map from Buffalo Gap National Grassland's Ranger District office in Wall, SD to get around in the grassland.
One special place that draws people to Buffalo Gap NG is the Indian Creek area. Isolation and solitude are prime features of this area, attracting backcountry visitors. The peace and quiet of this place are interrupted only by the scream of a hunting hawk and bawling of a wayward calf. Rock hounds, looking for Fairburn agates, and searchers of invertebrate fossils are discovering the possibilities of this location.
In addition to managing and developing the U.S. National Forest Campground Guide website, the Dows have also self-published eBook CDs and downloads of the U.S. National Forest Campground Guides. They are organized by geographic region, which can be purchased online at their website.
About ForestCamping.com
ForestCamping.com, is a complete and comprehensive guide to developed campgrounds in national forests and grasslands. It provides detailed information to campers looking to experience the great outdoors.
Fred and Suzi Dow, authors and publishers of ForestCamping.com, have devoted 17 years to visiting, personally researching, and providing the public with detailed information about 175 national forests and grasslands and over 2,400 personally surveyed campgrounds. ForestCamping.com focuses exclusively on national forests and grasslands and the camping available in them.
###