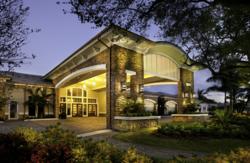 The excitement about our fabulous new amenities has spilled over into greater individual home buyer interest and an increase in custom speculative home building by prominent builders here
Delray Beach, FL (PRWEB) January 17, 2012
Residents of Delaire Country Club, one of Palm Beach County's most prestigious residential communities, are enjoying a two-fold benefit from the recently completed $21 million expansion to their Club.
In addition to including the obvious social and health benefits of an ultra-luxurious new 63,000 sq. ft. clubhouse and state-of-the-art fitness center, plus updated tennis facilities, Delaire is enjoying renewed interest as a high-end country club.
"The excitement about our fabulous new amenities has spilled over into greater individual home buyer interest and an increase in custom speculative home building by prominent builders here," says Trent Squire, Club General Manager.
"Interest in becoming a resident of Delaire is at a new high. We are pleased to be bucking the trend of stagnated home sales. Golfers, in particular, visualize playing on our 27 hole, Joe Lee-designed courses. They understand that the lifestyle here is something very special.
"Because of its low density, Delaire is one of the few clubs in South Florida that provide members with no required tee times," explains Lang Realtor and Delaire Resident Specialist Suzanne Block. "Delaire is an upscale boutique country club community with a warm, low-key social atmosphere."
With Delaire Country Club's generous lot sizes and its convenient location between Boca Raton and Delray's exciting Atlantic Avenue, it's no wonder that three of the area's most outstanding custom builders have decided to build speculative homes in the development.
Each of these residences is unique, with sophisticated finishes, top-of-the-line appliances and scenic views of lakes and emerald green fairways. Architectural styles are eclectic, ranging from Key West Casual to Mediterranean.
NMB Custom Homes, headed by veteran country club builder, Ian Koolik, has just completed two homes ready for immediate occupancy with prices starting at under $900,000. These beautifully designed open floor plan homes each boast 3,358 sq. ft. and enjoy stunning lake and golf course views.
Also well under way and scheduled for a March completion is a home being built by Charles Mishner of Howard Torn Construction, well known builders of luxury homes in Palm Beach County. This 4,122 sq. ft. home, with numerous designer details and exquisite lake and golf course views, can be purchased for under $1,250,000.
Ron Ellish, president of Ellish Builders and a creator of custom homes in South Florida's most prominent country clubs for more than 30 years, is close to completing a 4,400 sq. ft. residence overlooking the golf course. This Palm Beach style home includes exciting architectural elements as well as many high-end designer features, and can be purchased for under $1,475,000.
Delaire Country Club is a private community of 324 single-family homes located on Military Trail along the Boca Raton-Delray Beach line. To learn more about the unique lifestyle offered at Delaire Country Club, contact Liz Shaw, Executive Coordinator, at 561-499-9090, or visit http://www.Delaire.org.
# # #