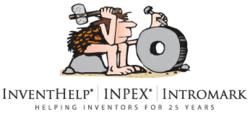 Pittsburgh, PA (PRWEB) January 20, 2012
InventHelp®, America's largest invention submission company, announces that one of its clients, an inventor from Virginia, has designed a device to teach a user how to correctly swing a golf club. This invention is patented and a prototype is available.
The "Mr. Clip It And Rip It" could teach the individual proper golf-swing mechanics, and could help to improve the timing of the swing. The invention would enhance hand-eye coordination, and could help the user to be a better overall golfer.
The invention would be made of plastic and metal, and would be designed as a clip. The clip would include a miniature golf ball at one end. To use, a golfer would clip the unit onto the top of his or her opposite shoulder from their swinging hand. For example if the golfer is right-handed, the clip would be placed on their left shoulder. The miniature golf ball is aligned with the real golf ball, positioning the golfer for a correct stance and swing. The individual would then swing the club as they normally would. The Mr. Clip It And Rip It could be produced in different colors.
"I wanted to develop a teaching aid for golfers to better their swings," said the inventor.
InventHelp® is attempting to submit the invention to companies for review. If substantial interest is expressed, the company will attempt to negotiate for a sale or royalties for the inventor. For more information, telephone Dept. 09-CHP-127 at (800) 851-6030.
Manufacturers interested in reviewing additional inventions and new product ideas can contact InventHelp's marketing partner Intromark by filling out an online request to review new product ideas here.
# # #