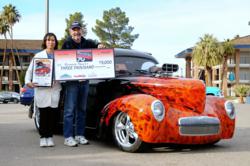 This is fantastic.
Mesquite, Nev. (PRWEB) January 18, 2012
If ever there was the perfect setting for the television hit show Happy Days, it had to be Mesquite and the fourth annual Mesquite Motor Mania held Friday through Sunday with $15,000 in prize money along with 154 trophies and awards.
A record field of more than 700 classic cars and a crowd in the thousands, the community about 80 miles north of Las Vegas became the scene of awesome machinery, great people and even the Smokin' Big Chili Challenge II doubleheader that benefited the Goodie Two Shoes organization.
With classic cars at the CasaBlanca, Oasis, Virgin River and the Eureka – along with the throaty sounds of high-horsepower engines – there was a level of electricity, color and pride that would make any city in America proud. With ideal weather conditions throughout the weekend, Mesquite Motor Mania not only attracted an incredible field of cars but also served as a giant economic boost to hotels, restaurants, bars and the rest.
All that was missing was Henry Winkler as The Fonz. With street cruising along with an assortment of everything from a 100 year-old Cadillac to dragsters and cars from several decades, Mesquite Motor Mania was definitely a time of enjoying the good old days.
Reality may have set in again when the gathering of machinery headed home in all directions reaching from the state of Washington in the northwest to Texas in the South and countless other states throughout the country.
However, the key to Mesquite Motor Mania 2012 was that for three solid days, men, women and kids listened to old-time Rock and Roll music, drooled at the beautiful vehicles while throwing back to times when life was simpler.
Among the admirers was Mesquite Mayor Mark Wier.
"I have been in Mesquite since 1993 and I remember when we couldn't get two rows of cars together for a car show," Wier said. "This is absolutely fantastic. From me to you, welcome to Mesquite, the best city in Nevada to call home."
Dwight Melvin, a 61 year-old admitted car guy, brought his cruiser 1950 Chevrolet Fleetwood to the show.
"I have been coming since Day One,' said Melvin. "I love Mesquite Motor Mania. It's a great show."
A couple that really learned to love Mesquite Motor Mania was the husband and wife team of Richard and Menchy Pruett of San Clemente, Calif. Visiting Mesquite for the first time, the Pruetts captured Best of Show with a beautiful 1941 Black Willys powered by a 496 cubic inch Chevrolet big block.
In fact, the Pruetts are so entrenched in the Willys that they are a great example of the belief that couples who work together (on cars) stay together.
"I have been around cars since I was a little kid," said Mr. Pruett, a retired former salesman. "People like us get a kick out of revisiting the old days and you can do just that with a car show. We can visit yesteryear. This brought the kid out of me again."
Interestingly, Mrs. Pruett is heavily involved in the maintenance and upkeep of the car. In what is a fascinating story, she added all the wiring to the Willys thereby illustrating her intense knowledge of the classic car business.
"I don't' mind getting dirty at all," Mrs. Pruett laughed just before climbing under the Willys to check something. "This ($3,000) is our biggest payday."
The Pruetts also said they'd be back to defend their title in 2013.
"The people here are so friendly," Mr. Pruett said adding that the couple purchased the car from a resident of Yakima, Wash. "I have never met so many friendly nice people at a car show."
Chris Slater, a 39 year-old Las Vegan who works for IGT, won the burnout competition in his 1970 Chevrolet El Camino and loved every minute of Mesquite Motor Mania.
"It's really a lot of fun up here," said Slater, whose car has a 454 cubic inch engine. "This show is really cool because you can drive around to the different hotels and show off your car. Mesquite is quiet and a great getaway."
Mesquite Gaming Sporting Event Manager Christian Adderson, a Mesquite transplant who moved from Seattle, Wash., several years ago, gets the credit for the creation of Mesquite Motor Mania.
"This has been awesome," Adderson told the jam-packed capacity crowd in the CasaBlanca Showroom Sunday. "Hats off to everyone for helping make this such a tremendous success."
Specialty Awards included Best of Chrome, Outstanding Paint, Outstanding Engine, Best Engineered, Hottest Flames, Coolest Car, Sanitary Award and Hot Stuff.
More information regarding future car shows can be found by visiting http://www.mesquitecarshows.com.
Mesquite, which has a long list of special events every year, will next showcase the Mesquite Hot Air Balloon Festival Jan. 28-29. Further information can be found at http://www.casablancaresort.com.
###