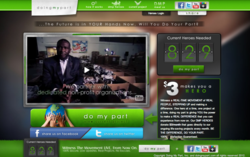 Charlotte, NC (PRWEB) January 17, 2012
For most people, helping children in need is something that we should do, but the actual process of giving presents complications. There are many organizations online and offline that collect donations, but the fact is, there are many obstacles in the giving back process. How much to give, where to give, who to give to, where does the money go, and most importantly, where is the proof that my donation made a difference. Because of these obstacles, many people do nothing at all, and the sad fact is, that if everyone simply did anything at all, we could have enough resources to feed, clothe and shelter everyone in the world. That is why Doing My Part has created the incredibly simple and transparent donation website to help children with confidence.
Doing My Part is the newest charitable giving website with the concept of creating everyday heroes. Their mission is to bridge the gap between the few who donate time and money on a consistent basis and those who do nothing at all. They are bridging the gap through a simple option to give; a simple call to action for everyone to simply "do your part."
Never before has it been easier to make a difference and know that your donation went exactly where you intended. With most charitable giving actions requiring time, money and energy (each one giving a potential donator a reason to stop in the process), Doing My Part has removed all obstacles of giving and created an equal platform for all individuals to get involved and help children in need.
Here's how it works. Doing My Part partners with some of the most credible and active non-profit organizations and discovers some of their most urgent funding needs. They create project goals, one at a time, to complete and give anyone the chance to "do their part" for the project. Now, here's the most important and unique aspect of this new and exciting fundraiser.
For a one-time signup of $3/month (automatic monthly donations), anyone can simply help children taking minimal time, money and energy. Each project goal is displayed on the site, one at a time, as the "current project" and every $3 donation goes toward the project goal until complete. Once the project goal is reached through the the collective $3 donations, the DMP team creates project documentation to show members how they are helping children in need for a simple and automatic $3 donation.
Mike Spencer, Co-Founder of Doing My Part, Inc. states, "We believe that everyone wants to help others, but we all have lives of our own. Doing My Part gives anyone the chance to become a hero, help children in need and do so confidently and on a consistent basis without taking time away from your everyday life. Now we can join forces with small actions and transform the world as we know it...right in front of our eyes."
Doing My Part has recently launched and gaining new "DMP Heroes" everyday. With the vision of becoming the largest grassroots fundraising movement in the history of charitable giving, Doing My Part seems to have a great start in doing just that...with a simple call to action for everyone to simply "do their part".
Doing My Part is a non-profit organization with the mission of "transforming the way the world gives back". Doing My Part gives anyone the chance to become a Hero through a minimal $3 automatic monthly donation. To see more information visit the website, go to the facebook page or see the previous press release here.
###