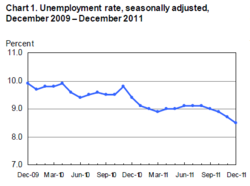 San Francisco, CA (PRWEB) January 18, 2012
According to the US Bureau of Labor and Statistic's most recent "Employment Situation" report released in December 2011, unemployment rates recently hit their lowest point in two years, which Credit Card City predicts will have major implications for consumer spending in 2012.
Specifically, these lower unemployment rates are anticipated to result in the following primary impacts on consumer spending throughout the New Year:
Easier Access to Lines of Credit – As consumers re-enter the workforce, their ability to meet minimum payment requirements on existing mortgages, loans and other lines of credit will improve, resulting in an overall improvement in credit scores. As the qualifications of these consumers improve, new lines of credit will become easier to access when compared with the tightening of credit restrictions that has occurred over the past several years.
Higher Credit Card Balances – Interestingly, the Christian Science Monitor points out that, "Consumers incurred 154 percent more credit card debt during the third quarter of 2011 than the same period in 2010." Overall, this translates to an increase of $64 billion being carried as credit card debt, with no indication that this trend will be slowing down in the future as wallets loosen and the number of qualified borrowers in the market increase in the face of improving employment opportunities.
Increased Discretionary Spending – The rise in employment, paired with greater access to capital and credit lines, will likely lead to higher consumer discretionary spending as many buyers find themselves with extra income to spend for the first time in years. Automobiles, electronics, furniture and other home goods are all categories in which we expect to see growth in 2012.
Of course, predictions about 2012's economic prosperity aren't all rosy. Concerns about the debt situation in Europe, persistently low mortgage rates and the low likelihood of additional stimulus measures in the politically-charged 2012 election season are all expected to play a role in holding 2012's economic growth to the same sluggish levels as in 2011.
As a recent analysis by forecasting giant Kiplinger suggests:
"Data will show that the economy grew at an annual rate of 3% or more in the last quarter of 2011 but that the pace will slow again early in 2012 and pick up only slightly by the end of the year. A sustained recovery is still not under way, more than two years after the end of the Great Recession."
However, these predictions aren't all "doom and gloom", as the same report anticipates that both business sales and retail spending will increase by 6% in 2012. As job creation expands and businesses again become willing to invest in new equipment, inventory and large scale capital projects, it is likely that consumer spending – and overall economic health indicators – will continue to improve, even if this doesn't occur at the pace some analysts would prefer.
Overall, Credit Card City anticipates seeing a stronger buying environment than has been present in the past few years, as a result of both improving employment opportunities and a loosening of the credit access restrictions that have prevented many consumers from accessing capital in the past. For more information on the specific types of credit that may be available – as well as regular updates on the financial sector and credit trends – visit the Credit Card City website.
Credit Card City is an online credit card marketplace that helps individuals and businesses find the right credit card that suits their spending habits. We provides unbiased information and news about credit cards and related products and services so that consumers and businesses can learn about the latest credit trends, special offers and promotions available in the credit card industry.
###