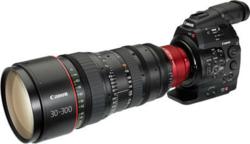 NYC, NY (PRWEB) January 17, 2012
B&H Photo Video is proud to announce that it has been chosen by Canon to be among the select authorized dealers for the Canon C300 and EOS C300 PL cinematography cameras. Designed specifically for digital cinematography, these HD cameras record 4:2:2 MPEG-2 video to CF cards, and feature Canon's new Super 35mm-size CMOS sensor, a true cinematic 24.00 fps mode, and Canon's Log gamma mode for expanded dynamic range.
B&H is excited to be accepting orders for both the Canon C300 PL mount and EF mount versions of the camera. Now available for pre-order, the cameras will begin shipping in February. B&H will be offering both models for $15,999, a significant discount compared to the estimated list price of $20,000. This is just the first entry in Canon's new Cinema EOS line, and Cinema Zoom lenses 30-300mm and 14.5-60mm, both EF and PL mount will be available in February.
Canon sparked a revolution in digital cinematography when professionals started using its EOS 5D Mark II DLSR camera for filmmaking, using its surprisingly good 1080p video mode for projects like commercial and television production. Despite its superior imaging capabilities, Canon knew it had much more to offer the demanding world of digital cinematography. To devise the new EOS C300, Canon leveraged and developed cutting-edge technology from several of its areas of expertise: sensors, image processors, professional video cameras – and of course, optics. The EOS C300 camcorder represents a giant leap forward for cinematic HD video production.
B&H Photo had a chance to have a hands on experience with the Canon EOS C300
Canon raised the curtain on an all-new interchangeable-lens digital cinema camera that combines exceptional imaging performance with outstanding mobility and expandability to meet the demanding production needs of today's motion picture industry. The camera, which features a newly developed Super 35 mm-equivalent approximately 8.29-megapixel CMOS sensor, will be available in two models: the EOS C300 Digital Cinema Camera, equipped with an EF lens mount for compatibility with Canon's current diverse lineup of interchangeable EF lenses for EOS single-lens reflex (SLR) cameras and new EF Cinema Lens lineup; and the EOS C300 PL Digital Cinema Camera, with a PL lens mount for use with industry-standard PL lenses.
About B&H Photo Video
As the world's largest source of photography, video and audio equipment, B&H Photo-Video is known worldwide for their attentive, knowledgeable sales force, and excellent customer service, including fast, reliable shipping. Visitors to the website can access a variety of enlightening articles and educational videos. B&H has been satisfying customers worldwide for over 35 years.
###