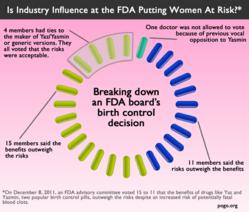 These revelations put a cloud over the committee's favorable ruling to Bayer. It is an insult to women who have taken these birth control pills that the votes were fair and impartial
(PRWEB) January 17, 2012
In December 2011, a U.S. Food and Drug Administration (FDA) advisory panel voted 15-11 that the benefits of drospirenone-containing birth control pills, such as Yaz and Yasmin, outweigh the risks. Interestingly, though, an investigation by the Washington Monthly and the British Medical Journal (BMJ) found that at least four members of the committee have either done work for the drugs' manufacturers or licensees or received research funding from them. The FDA made none of those financial ties public. "The American public relies upon the FDA rulings and decisions and believes that the FDA is looking out for the consumers' best interests," commented attorney Holly Ennis of Ennis & Ennis, P.A. Holly Ennis is a Florida attorney who concentrates her practice in representing clients nationwide again pharmaceutical companies and medical device companies.
Under FDA guidelines, when advisory committee members have a financial relationship with a drug company whose product is under review, the agency can issue waivers that acknowledge the advisors' links to industry but allow them to vote if their expertise is needed and no other specialists are available. In the hearings on drospirenone, the FDA issued no waivers reports the Washington Monthly. Meanwhile, according to public records, recently unsealed court documents, and interviews with some of the FDA advisors, at least four of the advisory committee members in this case have served as paid researchers, consultants, "key opinion leaders," or speakers for Bayer, the manufacturer of Yaz and Yasmin, or other manufacturers or licensees of drospirenone-containing birth control pills. A fifth advisor agreed to serve as a consultant but never executed the agreement. A sixth received consulting fees from a law firm representing Bayer. "These revelations put a cloud over the committee's favorable ruling to Bayer. It is an insult to women who have taken these birth control pills that the votes were fair and impartial," commented Attorney Ennis.
Meanwhile, the agency barred one member of the panel from voting. Sidney Wolfe, a former researcher and consumer advocate, was not permitted to vote at the December meeting on the grounds that he had and "intellectual conflict of interest."
Yaz and Yasmin are among Bayer's top selling pharmaceutical products, reports Washington Monthly. According to the German drug manufacturer, over 4 million women worldwide use Yasmin alone. However, these drugs are the subject of increasing controversy. A series of studies including one performed by the FDA, have shown that users of pills containing drospirenone have an increased risk of blood clots, which can cause deep vein thrombosis, pulmonary embolism, stroke, heart attack and death. Thousands of women have filed lawsuits against Bayer, alleging they were injured by Yaz or Yasmin. (Yaz MDL 2100).
In addition to the undisclosed conflicts of interest, it appears as though the FDA panel was not fully informed. While the FDA panel advisors were provided with studies' findings of increased incidents of blood clots among users of drospirenone-containing birth control pills, which were published in the BMJ, they were not given critical documents that suggest Bayer withheld safety data from the FDA, reports the Washington Monthly.
David Kessler, a former FDA commissioner and an expert witness in the lawsuit filed against Bayer, reports that in 2004 Bayer scientists reported in a draft analysis that Yasmin incurs a "several-fold increase" in reporting rates for blood clots compared to three other oral contraceptives, and that Yasmin's rate of all serious adverse events was "10 fold higher" than that of other products. (Yaz MDL 2100).
In his report, Kessler writes that Bayer failed to report safety data to the FDA, engaged in off-label promotion of the pills, and paid $450,000 to a high profile gynecologist to sponsor her book tour in which she promoted such off-label uses.
Kessler's report, originally under seal, was not released until December 6, two days prior to the advisory meeting. The FDA said it could not give the advisors the information because the date to submit documents had passed.
Attorney Holly Ennis comments, "In light of the obvious conflicts of interest, the FDA should schedule a new hearing, disqualify those panelists with the COI, allow the evidence from David Kessler, MD and put this issue to a re-vote. Otherwise, the only conclusion women can draw from this is that the FDA is more interested in protecting Bayer's profits over women's safety."
Ennis & Ennis, P.A. has been investigating Yaz and Yasmin birth control side effects cases since 2009. Ennis & Ennis, P.A. has represented clients who have suffered adverse side effects from Yaz, Yasmin, Vioxx, Fosamax, Avandia, Zyprexa, and the Depuy Hip Implant recall. Holly Ennis can be reached at hckennis(at)ennislaw(dot)com or 1-800-856-6405. To learn more about Holly, visit http://www.ennislaw.com.
###