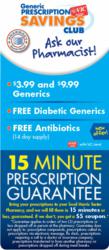 Charlotte, N.C. (PRWEB) January 17, 2012
Harris Teeter is committed to providing its customers with outstanding quality and service at a great value, including in its Pharmacy business. In 2012, the company invites shoppers to experience both the convenience of a Harris Teeter Pharmacy, as well as the familiarity of the company's knowledgeable pharmacists during Harris Teeter's Rx Punch Card Promotion.
Now through April 3, 2012, shoppers who fill a new prescription or transfer an existing prescription to their Harris Teeter Pharmacy will earn a $20 electronic coupon, automatically applied to their VIC card, for use on their next Harris Teeter grocery purchase of $20 or more. VIC households can earn up to 10, $20 coupons during the promotion for a total of $200 in savings.
Harris Teeter pharmacies provide customers some of the best pharmacy services in town. Please speak with your pharmacist about the company's Generic Prescription Savings Club (30-day supply for $3.99 and 90-day supply for $9.99), FREE Diabetic Drugs, FREE Antibiotics and 15-minute Prescription Guarantee. Also, when you fill a prescription at your Harris Teeter Pharmacy, you could be helping schools in your community earn valuable cash to support programs that encourage academic well-being if your VIC card is linked to a Together in Education school.
Harris Teeter operates 136 Pharmacy locations in six states including Washington, DC and reserves the right to limit to use of the electronic coupon to one per transaction. The Rx Punch Card Promotion is also not valid for any prescription previously filled at a Harris Teeter Pharmacy. Harris Teeter accepts all major insurance plans including Express Scripts.
For more information, please visit harristeeter.com.
About Harris Teeter
Harris Teeter Inc. with headquarters in Matthews, N.C., is a subsidiary of Ruddick Corporation (NYSE:RDK), a Fortune 500 company. Harris Teeter is the 24th largest supermarket in the U.S. with 2011 sales of $4.29 billion. The grocery store chain employs over 24,000 associates and has 206 stores in North and South Carolina, Virginia, Georgia, Tennessee, Maryland, Delaware, Florida and the District of Columbia
###