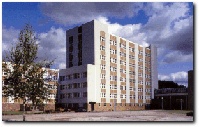 San Diego, CA (PRWEB) January 18, 2012
Silicon Kinetics Inc., the innovative life sciences tool company which developed the world's first 3D biosensor surface, announced that the Mossakowski Medical Research Center (MMRC), which belongs to the Polish Academy of Science, agreed to serve as a demonstration site for the capabilities of the SKi Pro system for label-free interaction analysis. Earlier, Silicon Kinetics had established its first European demo site in Marseilles, France at the Cancer Research Center of Marseille (CRCM) a part of CNRS,Centre National de la Recherche Scientifique and INSERM (Institut National de la Santé et de la Recherche Médicale). Both institutes have purchased SKi Pro systems for their research.
Separately, in June 2012 Silicon Kinetics will be sponsoring the workshop on Advances in Protein-Protein Interaction Analysis and Modulation in conjunction with CNRS in Roscoff, France.
During 2011, Silicon Kinetics announced the adoption, by major pharmaceutical and biotech companies, of its unique AC-MS (Affinity Capture-Mass Spectroscopy) technique for combining label-free binding with MS detection.
The technology making label-free detection possible on 3D silicon surface is NPOI, or nano-pore optical interferometry, by Silicon Kinetics.
About Silicon Kinetics
Silicon Kinetics Inc. is a privately-held life sciences tools company headquartered in San Diego, California. The Company specializes in instruments for optical interferometry on nano-porous silicon biochips. The SKi Pro™ instrument platform and the 3D SKi Sensor™ biochips are used to detect protein-protein, protein-drug, or protein-DNA interactions in real-time and quantify binding kinetics, dissociation rates, or biomolecular affinity rankings, required for the study of disease pathways and the development and manufacturing of therapeutics. More information can be found at http://www.siliconkinetics.com
Technical contact:
Martin Latterich, PhD
Silicon Kinetics Inc.
(858) 646-5475
mlatterich(at)siliconkinetics(dot)com
###