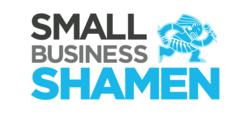 We're excited to have Chris Brogan headline the event and expect a sold-out crowd. Early registration begins January 16 and there's special pricing till the end of January."
Louisville, Kentucky (PRWEB) January 18, 2012
Early registration begins today for the inaugural Small Business Shamen Conference to be held Wednesday, April 4, 2012 in Louisville, Kentucky, with a special price of $125. This includes a full day of powerful speakers and entertaining discussions, as well as breakfast, catered lunch and more. Online registration is now open at http://www.smallbusinessshamen.com/register.
Headlining the event will be Chris Brogan, New York Times bestselling co-author of Trust Agents, and a featured monthly columnist at Entrepreneur Magazine. His topic, "The Frontier is Now," will give inspiration and action items on building your business. The event runs from 8 a.m. to 5 p.m. and will be held at the exciting new venue,Ice House, located conveniently at 217 E. Main Street downtown Louisville.
Brogan is president of Human Business Works, an online education and community company for small businesses and solo entrepreneurs. His first project there, 501 Mission Place, helps nonprofits and charities learn how to grow their capabilities. He also consults and speaks professionally with Fortune 100 and 500 companies like PepsiCo, General Motors, Microsoft, and more, on the future of business communications, and social software technologies. Chris's blog, [chrisbrogan.com], is in the Top 5 of the Advertising Age Power150.
In addition to Brogan, the Small Business Shamen Conference will feature high profile business
leaders from the local area. Louisville Mayor Greg Fischer will open up the conference and the full day' schedule includes:

Believing in Vision: The Entrepreneurial Challenge - J.K. McKnight, Founder of the Forecastle Festival
Creating Your Personal Brand - Peggy Noe Stevens, Author, global speaker, media spokesperson and prominent brand strategist.
7 Ways to a More Remarkable Career - Jason Clark, President and Creative Director VIA Studio
Local Economy and Green Business Practices - Mike Mays, Heine Brothers Coffee
Roundtable Discussions with Speakers above and Edward Lee, Chef of 610 Magnolia.
Key Sponsors for the event to date include:

Who should attend?
If you are someone who believes in the power of small business and the local economies as an agent of change in the world, this day is for you. Early registration for the conference opens on January 16, 2012. Regular pricing begins February 1, so act now for the best value. More information can be found http://smallbusinessshamen.com/ as well as event updates on Facebook and Twitter (@sbshaman).