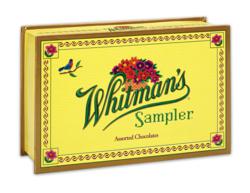 Today, a Sampler is sold every 2.5 seconds. It is estimated that over one billion Samplers have been enjoyed since 1912.
Kansas City, Missouri (PRWEB) January 17, 2012
America's most famous box of chocolates celebrates its first 100 years - 1912 to 2012. The yellow, cross-stitched Whitman's® Sampler® may seem quiet and unassuming, but oh do Americans love to give it.
Since the Sampler's introduction in 1912, it has never faltered as America's best-selling box of chocolates. Today, a Sampler is sold every 2.5 seconds. It is estimated that over one billion Samplers have been enjoyed since 1912, and a large number of those empty boxes can still be found in desk drawers, cupboards, and attics filled with keepsakes, recipes, baseball cards, buttons, and the like. The Sampler is truly a part of American life.
Many clever ideas have helped pave the way for the Sampler's historic 100-year success.
The yellow, cross-stitched design is one of the greatest packaging ideas in history. The original 1912 package had an aged yet ageless look suggesting the box had been around for 100 years giving first time buyers a sense of confidence in their gift choice. The Sampler was the first box of chocolates with an index showing each candy inside – now a boxed chocolate standard. The Sampler was the first packaged product in the U.S. to be wrapped in cellophane and the first to be nationally sold in the best drug stores across the country. By 1915, over 19,000 independent drug stores proudly offered the Whitman's Sampler. An incredible achievement today, let alone nearly a hundred years ago.
The Sampler is the most advertised box of chocolates in history.
America's love affair with the Whitman's Sampler has been fueled by the elixir of advertising. Many of the ads produced over the decades are true works of art created by the best illustrators and photographers of the day. No one can forget the famous slogan A Woman Never Forgets the Man Who Remembers or Here's How I Remember! Why Don't You?. The latter became unforgettable in the 1950s when Hollywood's biggest movie stars including John Wayne, Humphrey Bogart, Bob Hope, Jimmy Stewart, and Elizabeth Taylor told America those very words while holding a Sampler. No million dollar endorsement checks for these stars. They were paid in Samplers and a mention of the actor's upcoming motion picture. Today, the Sampler is a regular in popular culture, showing up in countless movies and television shows as a welcomed gift.
The Whitman's Sampler is a national treasure.
For as long as anyone can remember, a Sampler has been a special gift from the President for important guests who visit the White House and those traveling on Air Force One. It's even packaged in its very own Presidential tin. In 1991, the Sampler's place in American history was further recognized when it was added to the Smithsonian Institution's National Museum of American History. And to American servicemen, the Sampler has been a comforting gift from home. During World War II, handwritten notes of encouragement were packed into Sampler boxes and sent to the fighting troops. This tradition was continued in 2001 after the 9/11 terrorist attacks. Sampler boxes with hand written notes were delivered to American troops overseas.
What is it about the Sampler that makes it just as popular today as it was in 1912?
Is it the charming cross-stitched, yellow box virtually unchanged since its beginning? The delicious chocolate assortment - who can't resist that mouth-watering chocolate caramel or the delicious milk chocolate Messenger Boy? Or is it the tradition of giving the Sampler, always the perfect gift for anyone and any occasion?
Whitman's President, Tom Ward, says, "This yellow box is simply amazing. I don't know exactly what it is, but Americans love to give it year after year after year. I would like to take this opportunity to recognize the men and women who continue to make the Sampler day in and day out. I am proud that everything from the handcrafted chocolates to the beautiful paper box is proudly made in America with the same passion and excellence that began in 1842 when Stephen F. Whitman made his first chocolates in Philadelphia."
Whatever the reason for its legendary success, it's undeniable America still embraces the tradition of giving the Whitman's Sampler. To lovers, to mothers, to neighbors, to friends, to the mailman, to the President, the Sampler remains the perfect gift. What will the next 100 years bring?
To celebrate this 100 year milestone, the Whitman's Sampler wants to party with anyone born in 1912 in their Kiss Me, I'm 100 Giveaway. Winners will receive a Kiss Me, I'm 100 hat and a JUMBO Whitman's Sampler—big enough to share with friends, but that is completely up to them! And don't miss the Whitman's Sampler Mile High Classic, the sweetest college lacrosse event of the season. The Whitman's Sampler Mile High Classic will be played in primetime on Friday April 27th at Sports Authority Field, home of the Denver Broncos. The double-header event will feature four of the finest teams in the NCAA, Virginia v. Penn and Denver v. Duke. For details and more information about the Kiss Me, I'm 100 Giveaway and the Whitman's Sampler Mile High Classic, please visit http://www.facebook.com/WhitmansSampler.
About Whitman's Candies
Celebrating its 170th anniversary in 2012, Whitman's Candies is America's oldest continuous producer of boxed chocolates. Whitman's began in 1842 when 19-year-old Stephen F. Whitman set up a small confectionery and fruit shop on the Philadelphia waterfront. The Whitman's Sampler is among many boxed chocolate masterpieces produced by Whitman's over the years. Today, Whitman's chocolates and confections are manufactured at factories located in Abilene, Kansas, Iola, Kansas, Montrose, Colorado, and Corsicana, Texas. Whitman's. Made in America since 1842.
###