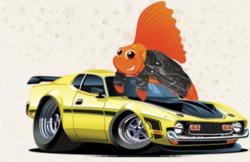 Garden City, New York (PRWEB) January 16, 2012
RoadFish.com is in full support of the revamp to the Girl Scouts of the United States of America's merit badges. The Girl Scouts of the United States of America (GSUSA) has released 136 new badges for 2012, 13 of which are centered around financial literacy. Some of the newly released badges are money manager, good credit, budgeting, and business owner. Per Anna Maria Chávez, the CEO of the GSUSA, in a CNN interview, she stated, "...we're hoping that the girls not only learn those issue for themselves. They understand how to invest their money but they teach other kids around them. They bring them along the path with them."
The editor of RoadFish.com is quoted as saying, "I think it is about time that there was more focus with our kids on fundamental basics. In light of our struggling economy, educating our children on good money practices seems right on target. I applaud the Girl Scouts for doing this."
The GSUSA was founded in 1912 by Juliette Gordon Low as an organization that would empower young women and instill core values such as confidence, character, and courage. 2012 is a big year for the GSUSA with the release of new badges, girl scout cookie sales, and it's 100th anniversary in March. An organization that can adapt to changing times is quite a value for the youth of the nation.
About RoadFish.com
RoadFish.com is an online men's finance and lifestyle magazine targeted toward men in their 30's and 40's that have already attained a moderate level of success in life, and are striving toward more. It goes over current events of interest to this group, such things as exciting adventures, consumer interests, dating tips, as well as ways to make more and save more money. It is a publication owned by Purpose Inc.
###