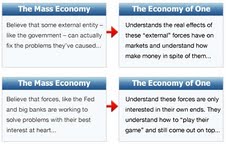 Austin, TX (PRWEB) January 17, 2012
The 2012 Index of Economic Freedom, published by The Wall Street Journal and the Heritage Foundation, was released last week. It reveals what the American public suspected, investment has not helped the world economy, which is actually on the decline. "The Absolute Wealth" newsletter examines the different reasons for this economic decline, along with a variety of solutions that Americans can implement to take control of their financial future.
"The Absolute Wealth" newsletter discusses how Washington's addiction to spend and borrow, has caused terminal U.S. debt, which is a potential for out of control inflation. "The Absolute Wealth" newsletter explores how this current situation is creating severe consequences that may result in slower growth, fiscal and debt crises, along with unemployment.
Investment advice, which can be found in "The Absolute Wealth" newsletter, helps the American public to escape the economy of the masses, and create an economy of one, which is essential to survive and prosper in any economic conditions. This current information can be used by people that have been living the American dream, but are now disillusioned, because they are possibly facing unemployment or foreclosure issues.
"The Absolute Wealth" newsletter goes in depth about what happens when people follow conventional wisdom in today's economy, and how it often leads to conventional financial ruin, causing those people to suffer the fate of the masses. The information outlined in "The Absolute Wealth" newsletter, are the same investment strategies that have propelled every legendary, successful investor throughout history.
About Absolute Wealth, Inc.
The Absolute Wealth newsletter contains research that is published by experts in the financial field and the stock markets. The only independent investment alliance dedicated to help the American public increase their wealth, using tried and true strategies, that many financial visionaries have depended upon to amass great wealth. The focus is placed upon strategies that preserve and grow wealth, no matter what the experts predict for the mass economy. Read "The Absolute Wealth" newsletter for in-depth information on these strategies, and how they can help people take back control of their financial future.
Sources: http://www.wsj.com
###