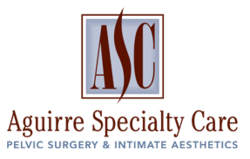 Our goal is to work with each patient to educate and empower her to reach optimal health with Bioidentical Hormone Therapy. We look at each patient as an individual, listening to her story and experiences.
Denver, CO (PRWEB) January 17, 2012
Fellowship-trained Urogynecologist and Medical Director of Aguirre Specialty Care in Denver, CO, Dr. Oscar A. Aguirre, announces that patients in the Denver area are experiencing decreased symptoms with Bioidentical Hormone Therapy. Bioidentical Hormone Therapy treats different hormonal imbalances that may occur throughout women's lives with hormone replacements which have the exact same molecular structure that a woman's body produces naturally.
Bioidentical Hormone Therapy at Aguirre Specialty Care treats perimenopausal, menopausal and hormonal imbalance symptoms in women such as hot flashes, fatigue, night sweats, weight gain, depression, low libido, mood swings and irritability. Aguirre Specialty Care also treats conditions such as hypothyroidism, adrenal dysfunction and fatigue. Bioidentical Hormone Therapy is prescribed after determining whether the patient is a candidate and after the patient completes a few diagnostic tests to check thyroid levels and hormone levels. Dr. Aguirre states, "After about two weeks of being on Bioidentical Hormone Therapy, the patient experiences decreased symptoms. As the patients' hormones continue to stabilize, they may experience dramatic improvements in their health and well-being." Dr. Aguirre continues, "Shawna Stephan, P.A.-C, our Bioidentical Hormone Therapy expert, has extensive experience in menopausal medicine and endocrinology. Shawna really listens to each patient and then guides them through the entire process."
Dr. Aguirre explains, "Our goal is to work with each patient to educate and empower her to reach optimal health with Bioidentical Hormone Therapy. We look at each patient as an individual, listening to her story and experiences. Many times, patients suffer needlessly for years. They are surprised to learn that their anxiety, sleeplessness or lack of sexual interest may not be an emotional problem, but rather a hormonal imbalance. When patients learn that we may be able to make dramatic improvement to these symptoms, they are delighted."
About Oscar A. Aguirre, MD
Dr. Aguirre is a fellowship-trained urogynecologist who has dedicated his entire surgical career to the evaluation and management of vaginal relaxation and bladder/bowel disorders. Since early in his career, Dr. Aguirre has performed cosmetic gynecological procedures at the request of his urogynecologic patients. In 2006, he formally pursued his interest in the field of Female Genital Cosmetic Surgery (FGCS) under the supervision of world-renowned gynecologist, Dr. David Matlock of Beverly Hills. Dr. Matlock is the pioneer and developer of Laser Vaginal Rejuvenation® (LVR®) and Laser Reduction Labiaplasty, also known as Designer Laser Vaginoplasty®(DLV®). With this additional training, Dr. Aguirre became the third urogynecologist in the country to perform these aesthetic vaginal procedures and implement them at the time of urogynecological procedures to restore anatomical pelvic floor defects. He recently presented at The World Congress on Female and Male Cosmetic Genital Surgery attended by cosmetic vaginal surgeons from all over the world.
Dr. Aguirre's research interests have included an array of urogynecologic and women's health issues, including female sexual dysfunction. He has published research on a testosterone patch for low libido and was a principal investigator of a new investigational oral medication for the treatment of Hypoactive Sexual Desire Disorder (HSDD). As a recognized expert in the field of female sexual medicine, he is ideally suited to address the complex issues that revolve around women's sexual health.
Dr. Aguirre is a preeminent pelvic surgeon who has been providing urogynecologic care for more than 10 years and is an expert in addressing both women's functional and aesthetic concerns. Women who have concerns with the appearance of their vulvar or vaginal function should seek out the care of an experienced urogynecologic specialist, best suited to identify and treat the underlying problem. Dr. Aguirre has two extra years of training in vaginal and pelvic floor surgery compared to most other gynecologists who perform vaginal rejuvenation. Likewise, most plastic surgeons have had little, if any, vaginal surgery training. As an associate of the Laser Vaginal Rejuvenation Institute of America, Dr. Aguirre is trained to perform his procedures with the same techniques and skills pioneered by Dr. David Matlock, with his own touch based on his broad background in pelvic reconstructive surgery.
About Aguirre Specialty Care
ASC is a center of excellence for women, providing everything from urogynecologic procedures to dermal aesthetic services. Aguirre Specialty Care is located at 9800 Mt. Pyramid Court, Suite 300 in Englewood, CO. For more information contact Aguirre Specialty Care at 303-322-0500 or visit the website at http://www.ascdenver.com.
###