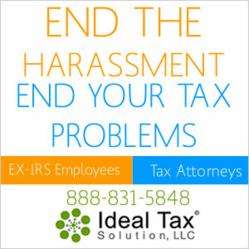 Last year there were around 88,000 volunteers in this movement who helped prepare over 3 million tax returns
Costa Mesa, CA (PRWEB) January 16, 2012
This year, the IRS is hopeful the Volunteer Income Tax Assistance, or VITA, and the Tax Counseling for the Elderly, or TCE, will be as thriving as ever. These programs are community based, typically taking place in neighborhood/community environments such as community centers, libraries, schools and other convenient locations. They assist low-to-moderate income taxpayers, those with disabilities, elderly or non-English speaking taxpayers file their tax returns. Last year there were around 88,000 volunteers in this movement who helped prepare over 3 million tax returns.
There are 5 things to know about becoming a volunteer. First, no experience is required. Other certified VITA/TCE volunteers with train any new volunteers. All volunteers are provided with free tax law training, e-file training and are enlightened any other information they need on basic individual income tax returns. Throughout the tax time, Mid-January to the tax deadline, April 17, 2012, volunteers are encouraged to participate 3-4 hours a week. Most of the volunteer sites provide free tax return filings for even their volunteers. So while doing something for the community, there is knowledge being gained and one can even get something in return by getting to file their tax returns. For more information visit irs.gov.
The information provided when becoming a volunteer is reason enough to do it. Many Americans have found themselves in tax debt that seems unbearable, and the majority of this is due to lack of knowledge when it comes to the tax world. There is help available for Americans in this situation. Tax resolution companies are guiding those who have tax debts from filing in years passed, liens, wage garnishments, etc. Seeking help with these troubles now and gaining free knowledge on it all at the same time is looking toward a bright tax paying future.
About the company: Ideal Tax Solution, LLC is located in Costa Mesa, CA and provides tax negotiation services, preparation and is a collection defense specialist. Their Tax Attorneys, IRS Enrolled Agents, CPAs, Senior Tax Consultants have over 55 years of combined experience working to help American tax payers with the IRS and State Tax Agencies. Ideal Tax boasts an "A" rating with the Better Business Bureau earned through providing excellent services.
# # #