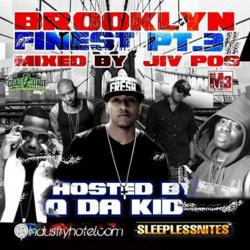 Miami, FL (PRWEB) January 17, 2012
DJ Jiv Pos recently released his mixtape "Brooklyn Finest Pt. 3." The project, hosted by Q Da Kid and presented by Coast 2 Coast Mixtapes, is now available for free download. "Brooklyn Finest Pt. 3" features Q Da Kid on tracks with other guest artist appearances from Lil Kim, Maino, Uncle Murda, Shawn Pen, Rock from Helter Skelter, Lil Fame, Rampage, Chase Baker, and more.
Jiv Pos has been DJing since the age of 13 in Brooklyn, NY. He was mentored by local legend Professor Paul and greatly influenced by hip hop legend DJ Clark Kent, starting as a local neighborhood DJ playing for free. Jiv Pos is known as a producer/DJ/remixer with no limits. If it's hot, he'll play it. If it's not, he'll mash it, remix it, and reincarnate it to make it hot. His sets take listeners on a rollercoaster ride through genres and eras. Armed with years of DJing and production experience, Jiv sets any party apart from the norm.
Throughout the '90s, Jiv released numerous party mix records through Tapekingz Records, and co-produced most of DJ Enuff's mixtapes. He also helped Mr. Cee put together the classic monster hit "Shake Dat Ass Girl." He was introduced to the club scene by DJ Enuff, paying his dues lugging crates and filling in for Enuff during breaks. Jiv has DJed everywhere from New York clubs to Corporate Christmas parties and private, high-priced events. Jiv was also the official DJ for King Just, Bushwackas, Junior Mafia, and Lil Kim. He has spot DJed for The Notorious B.I.G., Foxy Brown, Frankie Cutlass, and Queen Pen, DJing from Amsterdam to Puerto Rico and everywhere in between. He has also produced for many artists in the industry, notably, The Notorious BIG and Junior Mafia, for which he was awarded with multi-platinum and platinum plaques respectively. Jiv Pos is currently bringing a new vibe to the San Antonio music scene.
"Brooklyn Finest Pt. 3" is now available for free streaming and download at http://coast2coastmixtapes.com/mixtapes/mixtapedetail.aspx/brooklyn-finest-pt-3
###