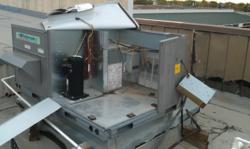 Compare onsite guards to remote video monitoring
Texas (PRWEB) January 18, 2012
When the price of metals increases along with a dip in the economy, property crime tends to rise. There has been an increase in copper theft across all commercial industries with criminals on the lookout for exposed AC units, utility meters, catalytic converters, foreclosed properties, and any other wiring/piping that contains copper. As an example of how mainstream the problem is, the city of Fresno in California was losing 1 million dollars a year in copper theft alone.
Overtaxed police departments are unable to be everywhere at once, and copper theft often happens on roofs, in industrial areas, and in the dark of night. Warehouses, retail centers, and industrial complexes are key targets for large-scale copper theft. In Texas, as the website Click2Houston reported, "While crime statistics are down across the Houston area, police say the types of items being stolen are growing more surprising as crooks get more creative in the tough economy."
These copper bandits leave hvac units, rooftops, retail property, warehouses and government buildings ripped up and destroyed by the process of removing the metal for resale. One of the best ways to reduce your risk of copper theft and property damage is to have a Stealth Monitoring system implemented, which is an effective live video surveillance deterrent for criminals. The key to a new camera system is having the cameras watched in real time. Regardless of the quantity and quality of the cameras, it is practically impossible to identify an intruder who is wearing a hat or hood. As Stealth Monitoring watches the cameras, Stealth Monitoring will not only alert local police enforcement to a crime in progress but can also forward them the actual video data plus relevant details about the criminals.
Call Stealth Monitoring today at 1-855-STEALTH to discuss the security risks for commercial properties before your facility or property is affected.
# # #