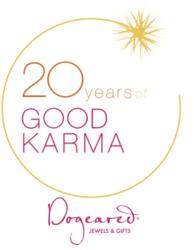 Our success has been created by being true to our vision and on developing our product, our employees and our partners.
Los Angeles, CA (PRWEB) January 17, 2012
Dogeared, a trendsetting fashion brand know for their innovative designs and cool California aesthetic, celebrated 20 Years of Good Karma in 2011. The company, which has designed and handcrafted jewelry and gifts in Los Angeles for 20 years, commemorated this milestone birthday with special events, limited edition jewels, and a yearlong giving initiative, Karma in Action. Dogeared successfully leveraged these activities to increase the number of international and domestic retail partners, the traffic to dogeared.com, and sales numbers across the board.
Other achievements include earning B Corporation status, receiving a Global Citizen's Award from World as One, celebrating dogeared.com's fifth year, and the addition of new management, all of which supported Dogeared's overall business growth.
"We had laid out an ambitious plan for 2011 with our 20 Years of Good Karma program," commented Marcia Maizel-Clarke, Dogeared's founder/designer. "Our success has been created by being true to our vision and on developing our product, our employees and our partners. Dogeared remains committed to being 100% handmade in the USA, giving back to the community, using only the highest quality materials, and producing everything in the most Earth-friendly way possible. This is the heart of Dogeared, and we are proud to uphold the same values today that we established when we began this journey over 20 years ago."
Dogeared is pleased to present some of the year's highlights:

Karma in Action raised significant funds for four non-profit partners: One Voice, Girl's Learn International, Stand Up To Cancer, and Heal the Bay. Dogeared has been committed to the causes of education, the environment, and the fight against cancer for much of its 20 years in business.
Product successes were key to Dogeared's sales growth in 2011. New custom designed and hand cast charms were instant best sellers. The Karma and Whispers line spoke to the trend of jewelry and gifts with personal meaning. The new Create line, with a soft launched just in time for holiday shopping, built on Dogeared's heritage of customization.
Dogeared's Management Team grew over the course of the year with the addition of Aubin Wilson as COO and Karen Levy as Director of Sales. Internal promotions and new hires in a number of departments added to the company's growing infrastructure.
Dogeared.com celebrated its fifth anniversary and fifth consecutive year of growth. The company's online flagship store continues to grow its customer base and sales volume, supported in part by a dedicated social media-marketing program.
New national, international, and online retail partners have contributed to the company's increase in sales. Global initiatives have successfully identified new markets for Dogeared's jewelry and gifts, including the UAE, Turkey, Jordan, Taiwan, and in Latin America.
Media Coverage is an important component of Dogeared's marketing program. This year, in part due to the increased focus on companies that produce their products in America, Dogeared was featured in a wide variety of publications, and on television shows including Ellen, Good Morning America, CBS Early Show, and The Dr. Oz Show.
B Corporation Certification was awarded to Dogeared in August by B Lab. The company joins over 500 companies in 60 industries committed to using the power of business to solve social and environmental problems.
World As One's 2011 Global Citizen Award, an honor awarded to Dogeared for the company's ongoing commitment to giving back to the community and practicing peace and love on a daily basis.
Dogeared Jewels & Gifts
Designer Marcia Maizel-Clarke founded Dogeared Jewels & Gifts just over 20 years ago in Southern California. Originating word jewelry, she began creating beautiful pieces with the purpose of putting positive, peaceful, and loving energy into the world. This energy has always included being kind to the planet, handcrafting all the jewels and gifts in California, and working with non-profit organizations sharing a vision of a better world. Dogeared's unique, custom-cast jewels are regularly featured in fashion, lifestyle, and celebrity publications, in films and on television shows. Trendsetting retailers around the world, including Nordstrom, Neiman Marcus, Bloomingdale's, Fred Segal, and ABC Home, all carry Dogeared. Please visit dogeared.com for Dogeared's online flagship store. For wholesale information, visit dogearedwholesale.com.
###