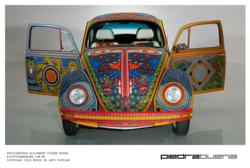 San Diego, Calif. (PRWEB) January 17, 2012
The San Diego Museum of Art will debut Vochol: Huichol Art on Wheels' international tour, a captivating display of more than 2,277,000 glass beads arranged on a classic Volkswagen Bug - the canvas for the exclusive cultural design. This original work of art will kick-off its international tour in San Diego on January 19 and run through March 10. A true testament to Mexican popular art, the patterns and designs displayed on the car create a bright, colorful image embodying the ethos of the Huichol culture.
The Huichol culture includes approximately 26,000 people who live primarily in the states of Jalisco, Nayarit, and Zacatecas. They have traditionally been a nomadic culture, but in recent times they have settled into more permanent residences in Western Mexico. Along with the many distinctive customs that characterize their culture is a dedication to the visual arts that is realized most often in the forms of yarn paintings or beadwork applied on select objects. The Huichol are a deeply spiritual people and much of their traditional artistic output is an extension of their faith.
Vochol combines the traditions of the Huichol with an icon of popular culture, the Volkswagen Bug. Within this work of art, as with many traditional Huichol works, the artists have incorporated references to animals such as deer (the most revered of all animals), peyote (used as a part of a sacred ritual), and various abstract designs.
After leaving the Museo de Arte Popular, its place of origin, Vochol will embark on an international tour starting in San Diego, moving on to several esteemed institutions worldwide such as the Smithsonian Museum of the American Indian in Washington D.C. and the Musée de Quai Branly in Paris. Vochol will ultimately be sold at auction by the Friends of el Museo de Arte Popular in Mexico City to support the work of Mexican artisans.
Vochol: Huichol Art on Wheels, organized by the Asociación de Amigos del Museo de Arte Popular (AAMAP) and Governments of the States of Nayarit and Jalisco, took seven months to construct and is truly an unprecedented work.
Museum Information:
The San Diego Museum of Art is located at 1450 El Prado in Balboa Park, San Diego, Calif., 92101. General Information, (619) 232-7931, Group Sales: (619) 696-1935, Website: http://www.TheSanDiegoMuseumofArt.org, Twitter: @SDMA, Facebook: http://www.facebook.com/TheSanDiegoMuseumofArt
The San Diego Museum of Art provides a rich and diverse cultural experience for 350,000 visitors annually. Located in the heart of beautiful Balboa Park, the Museum's nationally renowned collections include Spanish and Italian old masters, South Asian paintings, and 19th and 20th century American paintings and sculptures. The Museum regularly features major exhibitions of art from around the world, as well as an extensive year-round schedule supporting cultural and educational programs for children and adults. At The San Diego Museum of Art, exhibition text is always in English and Spanish.
###