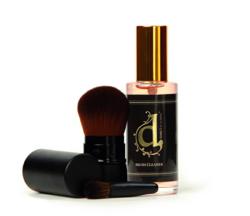 I love my kiss and makeup eyeshadow and liner and lipsticks so much. And the brush cleaner is my favorite thing! - Diane Lockner
Malvern, PA (PRWEB) January 17, 2012
The Oscar® Gift Bag
The presentation will include the line's signature brush cleaner and two limited-edition Kabuki brushes. The brushes are made with 100% synthetic brush fibers that are certified cruelty free by PETA and vegan approved by a leading international certification body. The gift bag will be presented to the non-winners in five major categories: Best Director, Best Actor, Best Actress, Best Supporting Actor, Best Supporting Actress.
The Oscar® Gala
On Sunday, February 26, 2012, from 6 – 11 pm, Di Caprio and Henry will co-host a black tie event with Restaurant Alba in Malvern to celebrate. The $150 ticket price includes hors d'oeuvres, champagne, a walk on the red carpet, a Kiss and MakeupSM gift card, a darci by Di Caprio® "Oscar® Swag Bag" and Restaurant Alba gift card. There will also be a special Oscar® Menu available for purchase. The Oscars® will be broadcast live. A team of photographers will be on hand to capture the event. A portion of the ticket price may be tax deductible. Twenty five dollars of the ticket price and 100% of proceeds from a Silent Auction will go directly to Dress for Success® South Central PA. To purchase tickets, please visit http://www.KissAndMakeupMalvern.com/oscars
Product Information
Mess and drying time makes cleaning makeup brushes a hassle most women tend to ignore, leaving essential beauty tools covered in bacteria. Formulated with technologically advanced ingredients that sanitize brushes and dry quickly, the darci by Di Caprio® Brush Cleaner is fast and effective.

darci by Di Caprio® Brush Cleaner is fast and easy to use. Spray brush with solution three times and wipe on a paper towel. Brush will be clean, dry and ready to use in seconds.
darci by Di Caprio® Brush Cleaner is sold in a 2 oz. spray bottle and retails for $22.50.
darci by Di Caprio® Brush Cleaner is available at Kiss and Makeup SM located at 2 East King Street in Malvern, Pennsylvania, online at http://www.kissandmakeupmalvern.com and in select retail locations.
The brushes included in the Oscar® Gift Bag include a sleek, black, retractable Kabuki and an Eye Kabuki. Both are made with 100% synthetic brush fibers that are certified cruelty free by PETA and vegan approved and designed to work with both creams and powders. Synthetic bristles are hypoallergenic, clean and dry quickly making them ideal and safe for sensitive skin. They are odor and dye-free when washed and have minimal shedding (if any).
For additional information about the darci by Di Caprio® Brush Cleaner, contact KissAndMakeupMalvern@gmail.com or call 610.647.4455. For product line information, visit http://www.kissandmakeupmalvern.com.
Women Empowering Women
Di Caprio, a Colonel's daughter, moved 13 times in 17 years as a child, having lived one year in Carlisle, Pennsylvania. Henry, a Farmer's daughter, grew up in Carlisle, but the two never met as adolescents. After a chance meeting at a business function twenty years later, they soon discovered their parallel universes and became instant friends. Sharing uncanny interests, experiences and dreams, the two partnered up to make them come true.
Both Henry and Di Caprio's personal challenges instilled a desire for independence and individual achievement and makeup always seemed to be a catalyst for change. "During difficult times, we pulled ourselves together by putting on our makeup and facing the world head-on. Or should I say face-first!" says Henry.
Founded on the belief that YOU create your own destiny, BECOME who you want and ACHIEVE your financial dreams, darci By Di Caprio® embodies their transformation — rebuilding their self-confidence and believing in themselves — in order to change the trajectory of their lives. They also want to share their stories to help other women. Di Caprio says "We want to be role models for our teenage daughters and lead by example."
As evidenced by the warm and inviting atmosphere of Kiss and MakeupSM, the quality of their cosmetics and their devotion to local women's shelters and charitable organizations, 'The Beauty of Believing in Yourself', is more than just a tagline.
About Kiss and MakeupSM
Kiss and MakeupSM is an intimate makeup and beauty boutique located at 2 East King Street in the heart of Malvern, PA. Kiss and Makeup offers the exclusive cosmetics line darci by Di Caprio® formulated with technologically advanced ingredients that blend color with skin treatments and includes eight different foundations, mica pigments, gel liners, lip glosses, sticks and stains containing vitamins, peptides, lip plumpers and jelt milled minerals. Best of all, 95% of darci by Di Caprio® products are made in the USA.
In addition to the new line, Kiss and MakeupSM offers custom-blended lip-glosses, an extensive line of professional brushes and many specialized services including private cosmetic consultations, makeup applications, lessons, ladies nights, and organic-based spray tanning.
###