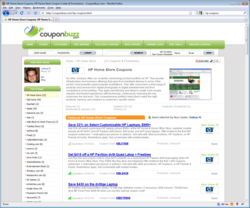 We here at CouponBuzz.com connect that same savvy customer with the very best HP coupon codes via our dedicated HP coupon webpage. Think of us as a matchmaking service
Houston, TX (PRWEB) January 17, 2012
CouponBuzz.com announced today two additional HP coupon codes that add up to great savings on HP laptops for consumers into today's tight financial market. Hopefully consumers looking to buy a new laptop have been keeping their eyes open, because this week only HP is offering an incredible $450 off the customized HP Pavilion dv7t Quad laptop and all HP Envy Laptops. In addition, a second HP coupon code for this week offers $50 off any customized HP laptop over $599.
With the worrisome January increase in unemployment claims, it seems clear that the US economy is going to be uncertain for some time yet. CouponBuzz.com is intensifying their efforts to provide consumers across the globe an alternative to paying full retail price for items like laptops and desktops, working with retail companies like HP to offer increasingly low pricing.
"Unfortunately, just because money gets tight doesn't mean business and school take a break," Said Justin Bowen, CEO of CouponBuzz.com earlier today. "Students still need laptops to study, and businessmen still need laptops to travel. And laptops still get dropped, get fried, get spilled on, or just plain wear out. The intelligent thing HP does with their marketing is offer laptop coupon codes for really great savings, but that only last a week. They are looking for the customer who is really looking for a deal. We here at CouponBuzz.com connect that same savvy customer with the very best HP coupon codes via our dedicated HP coupon webpage. Think of us as a matchmaking service."
Hoping to connect with their soul-mates this week are various HP laptops, all featuring attention grabbing HP coupon codes. The HP Pavilion dv7t Quad, at $450 off, is looking for an owner who enjoys an Intel core, 8GB of memory, a 750GB hard drive, and a free upgrade to Blu-ray player and DVD burner. HP Envy Laptops, also at $450 off, look good on the arm of someone who likes a notebook with 2nd generation Intel(R) Core, Turbo Boost up to 3.1 GHz, 8GB of memory, and a 750GB hard drive. And all HP laptops over $599 will give up $50 off to anyone who asks this week. Anyone with the correct HP coupon code, that is.
These two major coupon codes announced today are only valid through January 21, 2011, so serious shoppers need to visit the HP coupon webpage at http://couponbuzz.com/hp-coupons.html, and make a commitment.
###