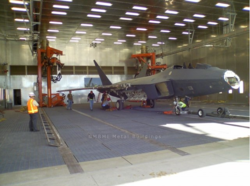 We have created a unique design for any type of heavy weather conditioned area. Our design will last longer and require less maintenance than any other design in the industry.
Delray Beach, FL (PRWEB) January 17, 2012
MBMI Metal Buildings, specialized supplier of steel buildings and accessories, examines a very productive year of designing, engineering, and delivery projects that took place in 2011. MBMI has proven its expertise in a diversity of structures, ranging from specialized buildings to advanced accessories, from multi-story structures to airplane hangars, including a recent custom hangar building for the U.S. Air Force.
In Spring 2011, MBMI tackled the serious problem of roofs collapsing due to intense snowfall. Its team introduced an innovative solution: a snow gutter system that supports twice the standard maximum load, manufactured in 26-gauge steel and attached to a corrosion-resistant galvalume metal base. MBMI implements this with an industrial-strength steel roofing system and additional purlins and girts to safeguard against even the most intense snow and ice.
In Summer 2011, the company took on another deadly element: the devastating winds of the south. Tornado seasons inspired MBMI engineers release a newly-designed safety structure: above-ground tornado safe-rooms. Manufactured in 24-gauge steel and reinforced with portal frames, pre-welded connector clips, and oversized 4"x3" base angles, the safe-rooms are designed to be resistant to winds that reach up to 200mph. MBMI's 40-year-warrantied safe-rooms are tailor-engineered individually based on capacity requirements, and can be designed as attachments or stand-alone structures. As the team notes, it's never too soon to be safe: "it's disconcerting to think of all the lives that could have been saved had the necessity for proper safety precautions been better addressed."
Also during the summer months, MBMI collaborated with Mercedes-Benz and Porsche dealership Autohaus Cayman in the Grand Cayman Islands. Their creation is a two-level pre-engineered multifunctional building, boasting premier materials and a rigid frame multi-span system that guard against the area's frequent hurricanes. The building exemplifies quality and cost-effectiveness at its best, as described by MBMI engineer Ian Strompf: "the reinforced interior beams were integrated into the design of the building to amplify the strength of the frame in the most cost-efficient way possible. With the use of high-strength steel beams, we were able to minimize the number of interior support beams necessary so as to not interfere with the [building's] functional design."
In October, MBMI also helped to host the 25th anniversary of Shiloh Ministry in Hewitt, NJ, in the custom-designed pre-engineered gymnasium, which was built for the Shiloh Bible Camp. Welcoming a great number of guests, the building served as an impressive venue. While it is an ongoing project, Camp Director Jon Frank commends the construction so far, documenting updates on the camp's Facebook page.
As the New Year sets up shop, MBMI pledges to pursue results that matter: cost-effective quality service that places customer satisfaction first.
For a free quote on a customized steel building visit MBMI's metal building quote page or call toll free 1-800-293-2097.
About MBMI Metal Buildings:
MBMI is among the leaders of metal buildings companies in the U.S.A., offering a wide range of excellent services. MBMI specializes in steel buildings, custom designs, manufacturing, and swift delivery. With state-of-the-art technology and first-class engineers, MBMI builds economical custom buildings using only the finest materials available to the industry. The team of engineers, draftsmen, detailers, and building designers offer over 70 years of experience to collaborate in the assimilation of outstanding quality at a great cost.
###