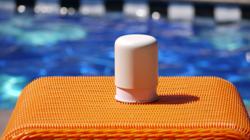 We knew that many people would like the product, but never imagined such an amazing response
San Francisco, CA (PRWEB) January 17, 2012
Two designers John Van Den Nieuwenhuizen and Vitor Santa Maria knew their modestly designed "no buttons or knobs" HiddenRadio would create a massive sound. What the two didn't expect was the massive following they would received in such a short amount of time. Since the product launched less than 2 months ago, The HiddenRadio and Bluetooth speaker has received over six times the amount of funding the designers originally asked for.
"The support we've received is extraordinary and extremely appreciated. The extra money has helped us add more features and deliver an even higher quality product," says Australian designer John Van Den Nieuwenhuizen now based out of San Francisco. John and his business partner Vitor Santa Maria founded HiddenRadio Design over 4 years ago. Vitor is from Rio de Janeiro but has been a designer in Milan for over 18 years.
The product was designed on the basis of consumer intuition. "Our approach is to create simple designs which make a positive impact in people's lives," says Vitor. The device is both elegant and extremely useful. Several speakers can be placed around the house and the user can connect with each one creating abundant sound inside as well as outdoors.
It provides several functions: it's a wireless Bluetooth speaker with FM radio that works with leading electronic devices like iPhones, iPods, iPads, or any other smartphones, tablets and computers. It runs on rechargeable batteries, which last over 30 hours on a single charge. There is also a standard 3.5 mm audio jack for connecting with non-Bluetooth devices.
The HiddenRadio and Bluetooth Speaker delivers pure, powerful sound, "We've tested it side by side with leading products on the market, and it has excelled in both sound quality and battery life," says John.
The HiddenRadio is only available now at Kickstarter.com. The clock is ticking down to pre-order and be the first to own the Bluetooth wireless speaker with FM radio. People can support the development of this product through the Kickstarter.com by pre-ordering their unit for $119, which will normally retail for $175. This will secure delivery of a limited- edition product directly to their homes with global shipping included.
The designers have already invested over $50,000 to develop the product and the capital raised through Kickstarter.com will be spent on injection molding tools, Bluetooth certification, initial inventory, and other equipment necessary for mass production. This is a chance to promote and support the production of this simple, useful and elegantly product before it hits the main market.
Orders can be placed for a limited time at: http://www.kickstarter.com/projects/2107726947/hidden-radio-and-bluetooth-speaker
###