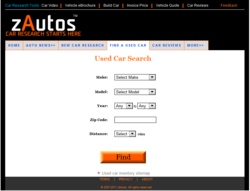 Irvine, CA (PRWEB) January 17, 2012
Inside its used car application, zAutos.com features a specific webpage designed to guide consumers in their search for a 2007 Honda for sale. Shoppers can browse over 46,000 available Honda models, including over 3,200 from the 2007 model year. Some of the most popular models for sale include the 2007 Honda Accord, 2007 Honda CR-V, and 2007 Honda Civic. The journey begins in the site's Used Car Portal, located under the "Find a Used Car" tab.
Consumers trust zAutos.com as their complete source for car reviews, auto news, and an extensive array of car research tools. Now the newly-launched Used Car is a useful feature on the site that is specifically dedicated to helping car shoppers find the perfect used vehicle. Users can now access over one million used cars through this feature on zAutos.com.
Viewers can select the year, make, and model of their desired vehicle. Search results can be further narrowed by zip code, price, and mileage. After these selections, a list of vehicles that are compatible with the user's preferences will appear. By clicking on these individual options, consumers will see a full screen display of key information about the vehicle, including a gallery of images, description of its features, the seller's contact information, a map of the car's location, and an available history report.
Among its other tools, zAutos.com offers over 4,000 instructional car videos, 10,000 vehicle eBrochures, and vehicle quotes to assist consumers looking for new cars. The site's Build a Car application, which allows users to create their own custom cars, is a popular feature on zAutos.com. zAutos also provides its viewers with the latest auto news and in-depth car reviews to further assist in the car research experience.
###