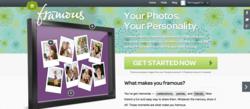 Massachusetts (PRWEB) January 17, 2012
New application, framous (http://www.framousapp.com), launches to allow users to pull photos from Facebook accounts and create a customized collage. The application is designed to work without Adobe flash, making it the first of its kind to work from iPad. Users can easily follow four steps to create a collage, then have it framed and shipped to their door. The application is set up to automatically design a personalized collage using the most 'liked' photos from a users account. From there, users can choose to further customize their collage by arranging any combination of photos from both their and their friends' Facebook photo collections.
framous was designed to be simple and easy-to-use for any age or computer skill. Currently, there are three layouts available. Once a layout chosen, framous completes the order by framing the collage in a 12" x 18" frame and ships it directly to the user. All collages are printed on a durable, professional photo quality paper and are assembled ready-to-hang on delivery.
framous is the first application of its kind. Users can produce a custom photo collage without the need to download or run Adobe Flash. This breakthrough design is the first of its kind to allow for creation using the iPad. Users can easily follow the four steps without having to download additional programs, making the process of creation, fulfillment and delivery seamless. Additionally, the non-flash based editor lends the opportunity to create new and innovative features that operate at speeds the consumer market has yet to see in this type of application.
About framous
framous launched in January 2012 as a means to create custom collages using photos uploaded through Facebook. Frames retail for $39.99 plus shipping. Currently the company offers a selection of frames and layouts for customization and is continuously adding new features based on consumer feedback. New features in development include portrait and landscape options, a drop down selector with up to 20 color options, a photo shuffle button, as well as additional layouts and frames. The company is headquartered in Massachusetts.
###