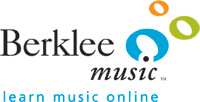 The Berklee Music Network is a destination where top-tier musicians can continue their musical and professional growth in a supportive and collaborative environment.
Boston, MA (PRWEB) January 17, 2012
Berklee College of Music, the world's premiere institution for the study of contemporary music, and Berkleemusic, its award-winning online extension school, today announced the launch of the Berklee Music Network, a first-of-its-kind music network, exclusive to Berklee students, alumni, and faculty, as well as select partners and music industry professionals.
The Berklee Music Network is an online community of the "best of the best" in music. Over 75,000 Berklee-trained and affiliated individuals, including Amy Ellis from Karmin, Stefan Lessard from the Dave Matthews Band, and many other noteworthy composers, producers, managers, performers and music industry professionals who are actively moving the business of music forward. The network provides a platform by which these professionals can collaborate, advance their careers through education and a robust job board, and get exclusive gear discounts from some of the industry leaders in the music business: Guitar Center, SoundCloud, IZotope, and many more.
"Berklee College of Music has an unparalleled track record in producing and educating the world's best musicians, entrepreneurs, producers, and songwriters," says Dave Kusek, CEO of Berkleemusic. "The Berklee Music Network is a destination where these top-tier musicians can continue their musical and professional growth in a supportive and collaborative environment. Our exclusive job boards and partner deals, coupled with the ability to personally interact with other Berklee-trained musicians, is a huge advantage to being part of Berklee, and it exists no where else online."
Although current Berklee affiliates—students, alumni, faculty, and staff—have exclusive access to the Berklee Music Network, new members can join the network by enrolling with Berklee College of Music in Boston, or by taking an online course with Berkleemusic.com.
To learn more, visit: http://www.berkleemusicnetwork.com
About Berklee College of Music
Berklee College of Music, for over 65 years, has evolved to support its belief that the best way to prepare students for careers in music is through contemporary music education. The college was the first in the U.S. to teach jazz, the popular music of the time. It incorporated rock n' roll in the 1960s, created the world's first degree programs in film scoring, music synthesis, and songwriting, and, in recent years, added world music, hip-hop, electronica, and video game music to its curriculum. With a diverse student body representing over 80 countries, a music industry "who's who" of alumni that have received 200 Grammy Awards, Berklee is the world's premier learning lab for the music of today – and tomorrow.
About Berkleemusic.com
Berkleemusic.com is the continuing education division of Berklee College of Music, delivering online access to Berklee's acclaimed curriculum from anywhere in the world. Berkleemusic's award-winning online courses and certificate programs are accredited and taught by the college's world-renowned faculty, providing lifelong learning opportunities to people interested in music and working in the music industry. As the business of music continues to move online, Berkleemusic is taking a leadership role in educating the next generation of producers, performers, and entrepreneurs on this evolving industry landscape. Berkleemusic's students come from over 130 countries around the world, and include Grammy award winners, managers, artists, publishers, music business entrepreneurs and major international touring acts.
###